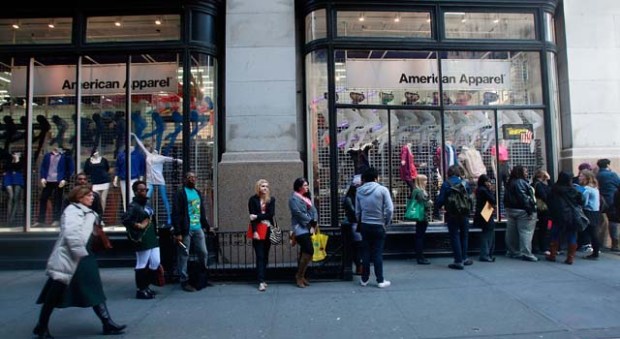 Getty Images
Job seekers line up to apply for positions at an American Apparel store in New York.
For all the fiduciary hot water that American Apparel has been in these past three months, Dov Charney's embattled company has also seen more than its fair share of extensions and reprieves. According to WWD, the company received another extension until November 15 to file its second-quarter earnings report (originally due June 30), in order to give its new auditor, Marcum, enough time to suss out all the numbers.
Following the departure of an auditor in August, the company announced a debt of $120.3 million dollars and losses sinking as low as $5 to $7 million dollars, raising blazing-red flags that the company might not have enough liquidity to last another twelve months. Last week American Apparel's shares showed gains of 29.2 percent, however, signalling that while the brand may be down, it's definitely not out.