Shovels and snow plows took front and center Sunday as a bitter cold settled over the tri-state and many across the region started digging out from the previous day's monster nor'easter.
The nearly 24-hour storm dropped varying accumulations but managed to deliver a whopping 25 inches out in Orient. The storm, which officially delivered blizzard conditions up and down the coastline and out on Long Island, dumped smaller totals in and around the city. Queens still managed to record over a foot.
Once the snow stopped late Saturday, bone-chilling temps and strong winds continued to linger overnight and well into the next morning. Winds did subside as the day continued, but Sunday remained cold enough to keep plenty of snow on the ground.
Temperatures will gradually warm up as the week moves along, but don't expected to see the 40s until Wednesday.
The NWS has already confirmed blizzard conditions following three hours of heavy snow, wind and reduced visibility along the Jersey Shore and in Suffolk County, New London County, Monmouth County and Ocean County.
It's the first blizzard warning anywhere in the region in four years. The National Weather Service defines a blizzard this way: "Sustained or frequent winds of 35 mph or higher with considerable falling and/or blowing snow that frequently reduces visibility to 1/4 of a mile or less. These conditions are expected to prevail for a minimum of 3 hours."
Early warnings from forecasters led the governors of New York and New Jersey to declare states of emergency hours before the storm's arrival, as transit leaders announced early suspensions of operations and offered a warning of additional schedule changes depending on the nor'easter's impacts — some NJ Transit and LIRR services were shuttered before the storm hit.
The message from state and local officials had been clear: avoid travel if you can. Nassau County Executive Bruce Blakeman said a snow plow operator found an elderly woman dead in her car overnight in Uniondale. Her official cause of death has not been confirmed, but Blakeman said she likely suffered a heart attack or other sudden health event and was not able to get help during the storm.
"It's a sad situation, but it illustrates how dangerous it is, people should not be out unless it's absolutely necessary," Blakeman told News 4.
By Sunday morning, police confirmed three additional deaths on Long Island, each was out shoveling during the blizzard.
Early reports suggested the storm wasn't underperforming, either -- as of 6 a.m. there was already a foot of snow at Forked River, NJ, and heavy bands set up over Long Island were dumping snow there as well.
The storm strengthened Friday night as it began its descent upon the tri-state. It will continue to intensify rapidly and meet the definition of a "bomb cyclone" — meaning a very strong, potent storm is likely.
Light snow started falling in southern New Jersey by 6 p.m., and most of the tri-state saw consistent flurries or snow showers as the evening wore on. The moderate to heavy snowfall and strong winds ramped up before dawn and continued well into Saturday when it reached peak intensity between 5 a.m. and 2 p.m.
During the height of the storm Saturday morning, the tri-state was expected to see snowfall rates of around 1-2 inches per hour, and up to 3 inches per hour further east of the city.
The storm looked different depending on where you were, so here's a breakdown by location:
Long Island, Jersey Shore, Coastal Connecticut
These areas dealt with the worst of the storm: The highest snowfall amounts, the strongest winds and the most dangerous conditions. Around noon, the National Weather Service was finally able to confirm blizzard conditions.
The north and south forks on Long Island got hit the hardest of all, with many places recording well over a foot of snow. By the time the nor'easter clears out, not until dinnertime, some spots could see more than 18 inches, or even two feet in total. Monmouth and Ocean counties along the Jersey Shore, as well as coastal Fairfield County, will see similar totals.
Wind gusts of 40-60 mph were called for, with isolated gusts of 70 mph possible.
Power outages stayed minimal, with only a few hundred reported in each state and strong winds whipped continuously through the morning. Meanwhile, snow carried by those gusts at times brought visibility close.
The snow should last until 6 p.m. on Saturday, but the winds will stick around well after that. Gusts will continue to whip around until sunrise on Sunday.
NYC, Westchester County, Lower Hudson Valley, Central and Northeastern NJ, Inland Fairfield County
A large swath of the tri-state expected anywhere from 3-12 inches of snow to fall from the nor'easter. Much of the city came in slightly lower than projections suggested, but still deliver around a half foot of snow.
Up toward northern New Jersey and into the Hudson Valley, totals were on the lower side. Early snow totals in the northeast part of the state capped out around 5 inches.
While winds may not be quite as powerful as places further east saw, gusts still reached 45 mph or more. The constantly blowing snow created blinding conditions on the roads throughout the morning.
The snow begins to teeter out by the mid- to late-afternoon across the five boroughs and surrounding areas.
Northwestern NJ and Northern Hudson Valley
These areas saw less than the coast in terms of snowfall, but weren't entirely in the clear. Most of these areas — such as Sullivan and Ulster counties in New York, and Sussex and Warren counties in New Jersey — were forecasted to get just a couple inches of snow overall, most will be below 3 inches. The further north and west, the less snow, with some spots possibly getting about an inch.
The storm began here early Saturday morning, bringing with it gusty winds even after the snow is gone. Driving conditions could be very difficult all day.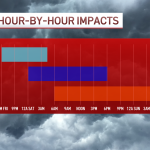 ---
The one thing that will be the same throughout the tri-state will be temperature. After hovering around freezing during the day on Friday, it plummeted into the teens overnight.
It won't get much warmer on Saturday, as temperatures barely make it into the low 20s. Add in the powerful winds, and wind chills will be near zero, and possibly below in the early morning and later at night.
Transit Suspensions and Utilities
Transit officials braced for treacherous morning conditions. Long Island Rail Road suspended all passenger trains by 8 a.m. in order to clear the tracks and switches. MetroNorth said that limited trains will be offered on Saturday, running hourly service on the Harlem, Hudson and New Haven lines., with other lines suspended.
NJ Transit suspended all bus, River LINE and Access Link services for the start of Saturday. The agency said that train service, Newark Light Rail and Hudson-Bergen Light Rail will remain on regular weekend service.
The MTA said that suspending service at above ground subway stations in the city was a possibility if the storm got bad enough, and bus service could be impacted as well.
New York City has urged people to use mass transit of possible. Alternate side parking, outdoor dining and COVID vaccine operations will be suspended for Saturday, city officials announced.
As of 12 p.m. Saturday, nearly all flights into and out of JFK, LaGuardia and Newark were cancelled.
Utilities are already making preparations for power outages. Eversource said it had hundreds of crews across Connecticut, ready to respond to downed wires or tree limbs that knock out power.
Most parks and other outdoor area, like zoos, announced they will be closed on Saturday. The New York Islanders' 2 p.m. home game against the Seattle Kraken was postponed due to the storm; it will be played on Wednesday, Feb. 2 at 7 p.m.
Stay with Storm Team 4 for the latest and track any approaching precipitation using our interactive radar below.
After the storm moves out, skies will clear on Sunday, though it will still be bitterly cold, with temperatures in the upper 20s. Monday will be sunny and a bit warmer, with temperatures reach the mid 30s.
Then February begins with warmer temperatures, into the 40s or hitting 50 next week, although it will come with three straight days of possible rain showers. Between the rain and temperatures consistently in the 40s, much of the snow from the weekend likely won't make it to the following weekend, when temperatures are back around the freezing mark.
There is still plenty of winter left to go, so more cold spells are very likely to be on the way after that.