Cold is the name of the game, but snow is trying to steal the show for some in the New York area.
Higher elevations north and west of New York City saw the first flakes of the season late Sunday, Storm Team 4 says, but the rest of the area may just have to wait a bit longer to see any flurries. On average, the 2nd week of December is when Central Park sees its first measurable snowfall.
A few passing showers are possible Monday, but conditions may not be enough for those raindrops to turn into flakes. Expect feels-like temperatures in the 30s most of the afternoon as gusty winds blast the region.
According to the National Weather Service, there's been at least a trace of snow in Central Park six of the last 10 Novembers. So there's still time.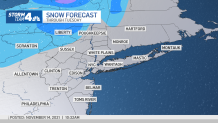 For now, snow will likely stick to higher elevations in parts of Sullivan, Ulster and Pike County. While that snow won't last long, it's the beginning of a cooler stretch after last week's warmer trend.
Conditions stay particularly chilly Monday and Tuesday before temps bounce back to the 60s midweek before another cold front arrives Thursday.
Track current weather conditions in the live interactive radar below.
Copyright NBC New York