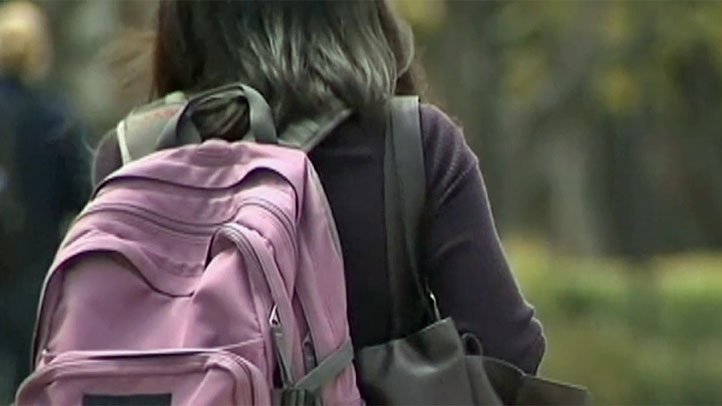 The anticipation of starting life as a college freshman can leave even the most confident student with unanswered questions before move-in day. Here are freshman year survival tips shared by NBC viewers on Facebook and other experts.

Before You Go...
Mary Jo Mason, director of counseling services at Sacred Heart University in Fairfield, Connecticut, said that in the coming weeks before college parents can help provide a smooth transition for their students by giving them more responsibilities.
News
Top news stories in the tri-state area, in America and around the world
"I recommend that they allow their student to start making their own appointments for anything, doesn't matter whether it's a haircut or a doctor," Mason said. "What this will do for you is help you learn to advocate for yourself."
This "transferable skill" can play a role if a student needs to ask a professor for help in class.
Get Enough Sleep — Dust Off That Alarm Clock
"If there was only a small bit of advice I could give to students it would be get enough sleep, eat correctly and get some kind of exercise," Mason said.
At-home routines may fall to the wayside, so Mason encourages students to use their phones to stay organized. But use a real alarm clock to wake up for morning classes, she said.
"I know all kids these days use phones as an alarm, but you can turn that off in a heartbeat and never even act like you heard it," she said.
And for those freshmen prone to pressing snooze, "don't sign up for those 8 a.m. classes" said NBC Bay Area viewer Todd Legate, a graduate of California State University, East Bay. "You're kidding yourself if you think you're going to go."
Time Management is Key
Mason says to use any free time constructively by planning assignments or attending group meetings. Students who can't manage their time may have a harder time adjusting.
"Students who are not very good at managing their time struggle because [they think] 'Oh I've got plenty of time to do this,'" and could eventually fall behind or procrastinate with school work.
Organizing and planning for assignments will ease the academic transition. But NBC Bay Area viewer Mollie Pedigo says if a student is struggling in class, "don't be afraid to ask for help."
"Take advantage of your professors' office hours," said the graduate of Humboldt State University in Arcata, California. "They set aside those hours specifically to be there to help their students."
Get Involved, Have an Open Mind
Allison McComb, director of the First Year Experience at the University of California Los Angeles, said that students not only make new friends by joining clubs, but find a sense of community while acclimating to college life.
"Finding a place where they feel really comfortable is incredibly important to their overall success," McComb said. "It is well known that students that connect have a better sense of themselves and a feeling of community."
NBC Bay Area viewer Noelle Richard Mayor, a graduate of Loyola Marymount University Los Angeles, advises students to join as many clubs as possible, even if that means stepping out of a comfort zone.
"It's a great way to meet friends and feel more at home," she said "Clubs like the Hawaiian club, which I joined even though I'm not from Hawaii, allowed me to experience some fun parties and events."
McComb encourages students to be open-minded to the different types of personalities and backgrounds they encounter. No matter how different people think they are, "there is a base level of understanding that everyone's going through an experience, and just trying to figure it out," she explained.
Before leaving home, a student's nerves and first-year jitters may seem to define their personality. Not so by the end of the second semester.

"I think they come in and they still kind of look and sound "high school," but by the end of the year they're talking like old pros. They realize how to navigate," she said.
Here are more tips from college graduates around the country:
Telissa Kidwell, University of California, Santa Cruz: "Study abroad for a semester, and take advantage of internships that give college credits!"
Monika Regete Hege, Mission College: "Talk with a school counselor every semester to ensure you are on track. Cultivate the relationship. They should be your advocate if a problem"
Andria Jimenez, Jose City College: "Avoid fast food!! No matter how stressed you are or how cheap it is."
Alison Crowley Short, Dean College, "Meet and hangout with people from outside the town you come from. Some may be friends for life."
Sara Sanger, Sonoma State University, "Don't get those easy credit cards they offer students!"
Amanda Aldama, San Jose State University: "Familiarize yourself with the campus resources (I.e. Career center, counseling, print shop, cultural center, computer labs, writing center, etc.) as soon as possible. Sign up for their e-newsletters if they have them."
Tiffany Orozco Vierra, San Jose State University: "I highly recommend taking a careers/counseling class your first year. Especially if you are not sure of a major."
Mellissia Franklin DeFilippis, University of Phoenix: "Stay focused on the reason you're there."
Dawna Houston, University of Maine: "Be prepared to pay for laundry! Learn how to do laundry before you head to college!"