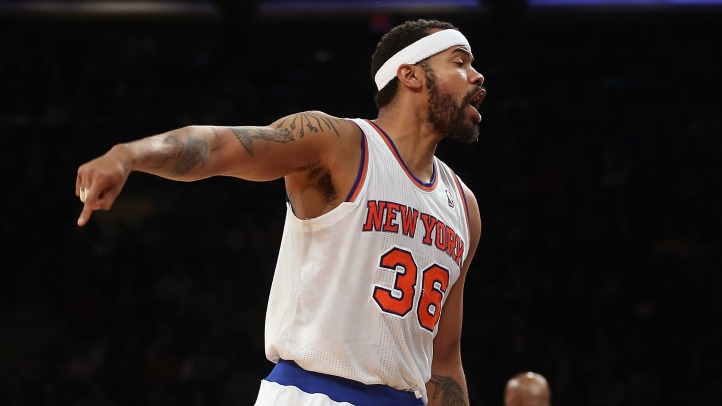 Over the first 15 games of the season, the Knicks established an unexpected profile for themselves.
They were a team that went out and won games so handily that it actually became a little bit boring to watch. On Friday night against the Wizards, the Knicks jumped to a lead early and steadily built it up over the course of the night with simple, well-executed and fairly unexciting basketball.
After the degrading and depressing recent Knicks past, no one is looking askance at that kind of winning even if they now understand why the Saints have never been a particularly popular attraction around the country. The average Knick performance this year, especially at home, has been cruelly efficient instead of wildly exciting.
It's better for the team and you know it is the best thing for you, even as you grumble quietly about things not being as filled with bells and whistles as you might like. It's sort of like choosing grilled chicken over the fried variety.
The opening minutes of Sunday's game against the Suns looked like it was headed for a similar destination. The Knicks jumped out to a huge early lead in the noon start as the Suns looked like they sampled way too much of what New York has to offer on a Saturday night.
And then Rasheed Wallace happened. It took him 85 seconds to get his first ejection as a member of the Knicks.
He earned his first technical with an unnecessary bump on Luis Scola after a foul had already been called on the Knicks, but the second was simply because of Wallace's history as the NBA's all-time technical king. Wallace yelled "Ball don't lie!" after the Suns missed the free throw for the first technical, something he does every time a player misses a free throw, and the refs chucked him out of the game to the dismay of the crowd.
On a day when Marcus Camby wasn't in uniform, Sheed's departure looked like a problem for the Knicks. It wound up just being an opportunity.
Wallace's exit opened up a chance for Chris Copeland to play meaningful minutes and he played them very well, putting up eight points and making it clear that the Knicks' biggest issue this season might just wind up being balancing minutes with so many players worthy of playing them. That's a problem right in line with winning boring games or making so much money that you have to pay a lot of taxes in the general scheme of things.
The Suns closed the gap a bit in extended garbage time, but the starters returned to close that door and the 106-99 final was closer than the actual game. Wallace's departure wasn't something the Knicks wanted, but it hardly rose to the level of being a problem.
So maybe there's a real problem to deal with involving Raymond Felton's left hand. Felton banged it on Sunday and they're calling the injury a bone bruise, which is better than a break but still could keep him out of the lineup for a little bit.
With Jason Kidd missing a fourth straight game, that smells like trouble. Or it would if not for Pablo Prigioni being on hand to be about the best third-string point guard you could imagine having on hand for a rainy day.
So you look elsewhere. J.R. Smith went 1-for-11 from the floor, but this seems like another case of Saturday night fever than it does a sign that Smith reverting to his old ways.
Carmelo Anthony could have been a bit more efficient on his way to 34 points, but he hit 4-of-10 from three to make it pretty hard to complain about needing 27 shots to get those points. It's not what you'd like every night, perhaps, but it hardly rises to the level of worrisome.
Really, the only significant worry right now is the whole working Amar'e Stoudemire back into the lineup thing. As the Knicks move further and further down the road as a team capable of winning in the way we're mildly complaining about, though, it becomes harder to see Stoudemire put in a position where he'll be able to do anything but grab an oar alongside the rest of the paddlers.
All is very, very well in Knicksland right now. This may just be the scene in the horror movie where things look a little too quiet or it may just be that we all need to recalibrate things in light of new realities.
We're betting on the latter. As Wallace tells us, the ball don't lie.
Copyright FREEL - NBC Local Media