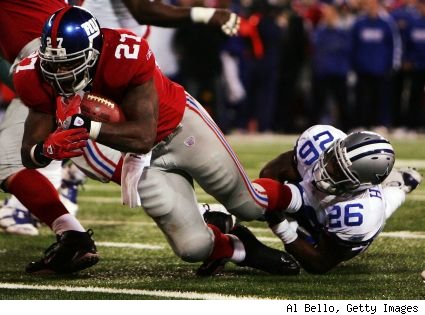 Filed under: Cowboys, Giants, NFC East, NFL Fans
You know, this wouldn't even be an issue if the NFL didn't have a regular season. If the league's best team was determined based on record and overall awesomeness, the Cowboys would be world champs. Annually.
Unfortunately, that's not how it works, so every time the Cowboys make it to the playoffs -- and lose -- the team and its fans have to hear about it. And with all the preseason hype surrounding Dallas, other clubs -- like, say, the defending Super Bowl champs and NFC East rival Giants -- take umbrage at all the undeserved recognition (at least as they perceive it).
Last month, Giants defensive end Justin Tuck reminded us all that you can't buy a Super Bowl (looking in your direction, Jerry Jones), and earlier this week, his teammate Brandon Jacobs, had some more thoughts on the matter. From ESPN's NFC East blogger Matt Mosley:
Since arriving at Giants training camp, I've been told that several members of the organization plan their Wednesday evenings around watching HBO's "Hard Knocks" in an effort to find more bulletin board material.

Apparently Jacobs has already seen enough because he went off on the Cowboys while appearing on WFAN's mid-day show earlier this week. After calling the Cowboys an "arrogant group," Jacobs followed with this:

"I guess they won their Super Bowl rings in training camp, because they didn't win it last year," he said.
Mosley wonders if the Giants caught the part about where Cowboys' coach Wade Phillips refers to them as "last year's champs" -- I'm guessing no since there have been no reports of New York players' heads blowing up.
At the end of the day, none of this really matters -- I can't imagine it provides any extra motivation when the two teams face off -- but it's always fun to hear grown men act like teenage girls. If there's anything the NFL needs more of, it's that.
Permalink | Email this | Linking Blogs | Comments
Copyright FANHO - FanHouse