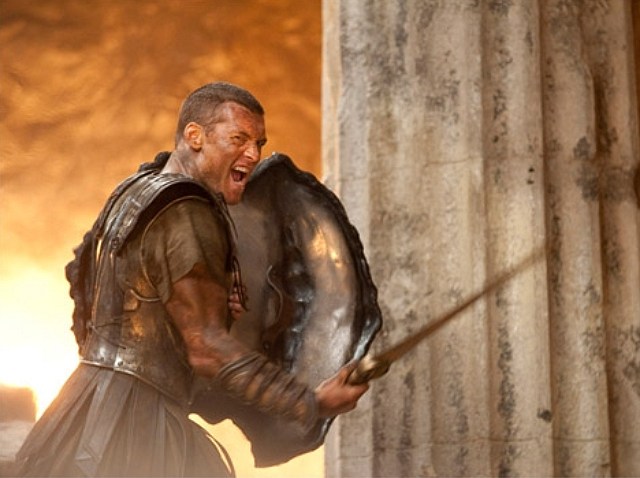 I have a soft spot in my heart for the original "Clash of the Titans," because it was one of the first movies I ever saw. It also serves as the beginning and end to my personal knowledge of the classics. Most film buffs know the original "Clash of the Titans" was the final film to feature handmade creature effects from the great Ray Harryhausen. And there's no Kraken quite like a stop-motion Kraken.

A remake of "Clash" is being released this April by Warner Bros., and I'm genuinely intrigued by this. I loved Harryhausen's effects, but certainly it would be interesting to see Perseus' story retold using state of the art effects, and replacing Harry Hamlin with someone who can actually act (in this case, Sam Worthington). The trailer looks pretty cool, even though I don't remember anything about giant scorpions from the first movie. I was unaware that "Starship Troopers" was also based on Ovid's poetry.

But now, WB is taking their effects on this new "Clash" to a whole other level. Call it the "Avatar" effect. The studio is retrofitting the nearly finished movie to be released in digital 3D, and they only have ten weeks to do it. From Variety:
Warner Bros. announced Tuesday that it will convert "Clash of the Titans" and the first part of "Harry Potter and the Deathly Hallows" to stereoscopic 3D (S3D), kicking off a flurry of release-date shifts and solving a puzzle that had stumped Hollywood's tech community…

Prime Focus announced its View-D conversion process in September and promised it would be "exponentially faster" than anything else in the marketplace. Those claims will now be put to the test.

Chris Bond, who heads Prime Focus' View-D team, told Daily Variety, "We view this as a 10-week project." Work is already under way.
Ten weeks! Keep in mind that "Avatar" took five years to make. Will "Clash" be able to create the same immersive environment in a fraction of the time? Or is this studio excitement run amok? Regardless of whether or not the new "Clash" is any good (and it looks like solid entertainment), this will represent Hollywood's first attempt to try and duplicate the enormous 3D success of "Avatar."
Testing on "Clash" has gone so well that WB has also decided to retool "Harry Potter and the Deathly Hallows," which isn't due until November. The switches will cost the studio an extra $5 million per picture, plus another $5 million per film to theaters for 3D glasses and other expenses.

I hope "Clash" succeeds. Also, I hope they kept the mechanical owl.