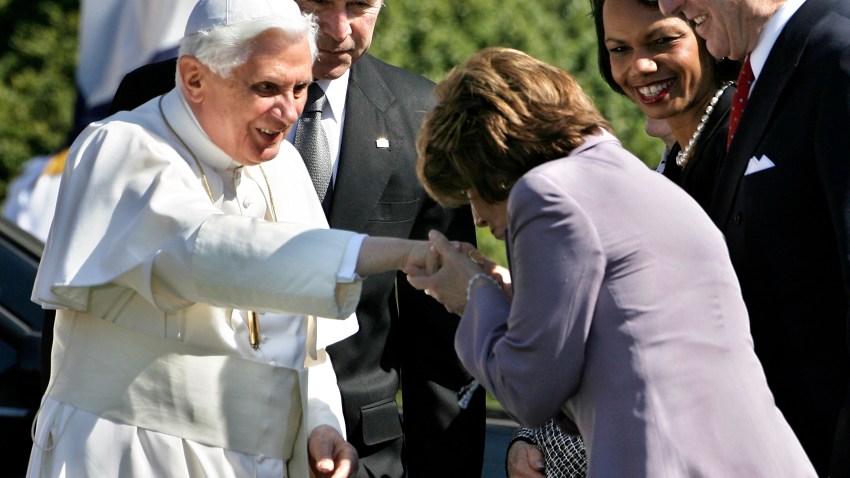 Speaker of the House Nancy Pelosi was ecstatic after meeting with an anti-choice pope considered infallible by Catholic true believers at the Vatican yesterday.

Pope Benedict XVI, AKA Joseph Ratzinger, received Pelosi in an audience absent any press or photographers after publicly addressing worshiping crowds in St. Peter's square.

The Vatican's spinmeisters promise that the quarter-hour meeting was entirely focused "on the dignity of human life from conception to natural death."

Sadly, Pelosi's PR team didn't counter with an appropriate comeback like "especially boys under the age of thirteen."

The Speaker of the House praised the Holy Roman Church's stance on "religious freedom" and trotted out pictures of a previous family pilgrimage to establish her dogmatic bona fides.

The San Francisco congressional representative and her fellow Democrats support a woman's right to choose what's right for herself and her own body, putting them at odds with church doctrine.

Such human rights are stringently denied to women by the Catholic church's orthodoxy as represented by Benedict, née Ratzinger, who has a specious hold on basic historical facts like the holocaust.

The Vatican was much closer to Republicans in the Bush administration, who seemed to get a free pass for their enthusiastic prosecution of the death penalty in exchange for being vehemently anti-feminist.

Jackson West is a Bay Area freelancer.
Copyright FREEL - NBC Local Media