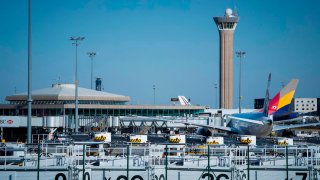 Two planes came within 300 feet of crashing into each other last year after a "slip of the tongue" by an air traffic controller at Paris' Charles de Gaulle Airport, according to a new report.
A United Airlines flight from Newark, New Jersey, was told to land on a runway where an EasyJet plane was getting ready to take off en route to Malaga, Spain, France's Bureau of Enquiry and Analysis for Civil Aviation Safety concluded in a review of the incident published Tuesday.
Upon seeing the United Airlines plane heading toward them, the EasyJet crew questioned why the Boeing 787 was landing on the 09R runway when all other planes were landing on the 09L runway.
Crew members from the EasyJet plane, as well as the controller, directed the United Airlines plane to abort its landing with only feet to spare. United Airlines, EasyJet and the Charles de Gaulle Airport did not immediately respond to a request for comment.