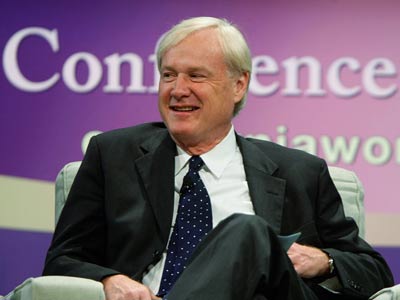 MSNBC pundit Chris Matthews is considering a run for the U.S. Senate in 2010 in a possible bid to unseat Republican Sen. Arlen Specter, according to a Pennsylvania Democratic party leader.
Matthews met with state party leaders this week in Washington to discuss a possible bid. Mary Isenhour, the executive director of the state Democrats, told The Patriot-News of Harrisburg that she left the meeting feeling that the host of MSNBC's "Hardball" still hadn't made up his mind.
"He's got a lot of things he still needs to consider," Isenhour said. "He's got a really good job with MSNBC. I think he's going to put some thought into it before he jumps in."
The 62-year-old Matthews, whose contract with MSNBC expires in June, also provides political commentary on NBC's "Today" show. He's a Philadelphia native and ran unsuccessfully for a northeast Philadelphia congressional seat in 1974. His brother, Jim Matthews, is a member of the Board of Commissioners of Montgomery County in suburban Philadelphia.
There was no immediate comment from Matthews on Saturday. A reliable home telephone number could not be located and a representative of MSNBC did not immediately return a call.
A Matthews spokesman denied another report on FiveThirtyEight.com that Matthews had already signed up staffers.
Matthews served as speech writer for President Jimmy Carter and was a top aide to former House Speaker Thomas P. "Tip" O'Neill Jr.
G. Terry Madonna, pollster and professor from Franklin & Marshall College, said Matthews knows politics.
"We'll look at his strengths and weaknesses if he decides to run," Madonna said. "But at the moment, he's very formidable."
Madonna said any Democrat would have a difficult time unseating Specter, who has a strong following from Republicans, independents and labor after 28 years in the Senate. Last spring, he disclosed he was facing a recurrence of cancer.
Specter, the longest-serving senator in Pennsylvania history, has repeatedly said he is seeking re-election. He would be 80 at the start of his next six-year term.
"Arlen's a survivor. He's a masterful politician," Madonna told the Patriot-News. "He's proven he can win in good years and bad years for Republicans in this state."

Copyright AP - Associated Press