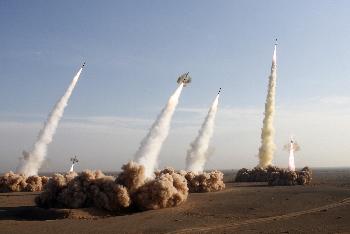 Iran test fired a long-range missile Sunday that could potentially reach U.S. bases in the region -- or cripple Israeli targets, the Iranian media reported from Tehran.
Iranian TV station PressTV said in a scrolling headline that officials had test-fired the missile, Reuters reported. The long-distance ranian Shahab missile could travel more than 2,000 km to reach U.S. strongholds in Israel and the Gulf.
Another news agency, Fars, ran a conflicting report, saying that the missile had a shorter range -- 110 km -- and was for nonviolent use. It was unclear which report was accurate.
Israel and Washington have accused Tehran of building up nuclear weapons over the past several months, but Tehran officials have vehemently denied any plans to strike. Israel said it has not ruled out military action if Iran refuses to give up its nuclear stash, and the Obama administration has said it plans to engage in talks with Iran to end the dispute.
The U.S. State Department declined to comment to Reuters on the missile reports.