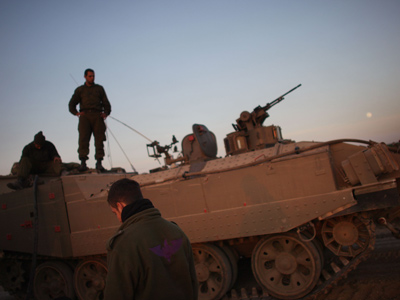 Israel dropped bombs and leaflets on Gaza Saturday, pounding suspected rocket sites and tunnels used by Hamas militants and warning of a wider offensive despite frantic diplomacy to end the bloodshed.
Egypt hosted talks aimed at defusing the crisis, but war had the momentum on a bloody day on which more than 30 Palestinians, many of them noncombatants, were killed.
At hospitals, distraught relatives — men in jeans and jackets and women in black Islamic robes — sobbed and shrieked at the loss of family. Flames and smoke rose over Gaza City amid heavy fighting.

Palestinian President Mahmoud Abbas predicted a "waterfall of blood" unless all parties adhere to a U.N. call for a cease-fire. But Israel has said the Security Council resolution passed Thursday was unworkable, and Hamas, the Islamic group whose government controls Gaza but is not recognized internationally, was angry that it was not consulted.
A top Hamas leader said the Gaza war has killed the last chance for settlement and negotiations with Israel.
Damascus-based Hamas leader Khaled Mashaal condemned Israel's attack on the Gaza Strip as a "holocaust" in a fiery speech broadcast on the Arabic news channel Al-Jazeera. Still, Hamas teams were in Cairo to negotiate over an Egyptian-proposed cease-fire.
At least 814 Palestinians, roughly half of them civilians, have died since war broke out on Dec. 27, according to Palestinian medical officials. Thirteen Israelis, including 10 soldiers, have been killed.
'Stay safe'
Weary Palestinians watched from apartment windows as thousands of leaflets fluttered from aircraft with a blunt warning: Israeli forces will step up operations against Islamic militants who have unleashed a daily barrage of rocket fire on southern Israeli towns.
"The IDF (Israeli Defense Forces) is not working against the people of Gaza but against Hamas and the terrorists only," the leaflets said in Arabic. "Stay safe by following our orders."
The leaflets urged Gaza residents not to help Hamas and to stay away from its members. There was no immediate sign of an escalation, though earlier in the day, witnesses said Israeli troops moved to within one mile of Gaza City before pulling back slightly.
Israeli defense officials say they are prepared for a third stage of their offensive, in which ground troops would push further into Gaza, but are waiting for approval from the government.
The officials, speaking on condition of anonymity because they were discussing classified information, said the army also has a fourth stage planned that calls for a full reoccupation of Gaza and toppling of Hamas.
The leaflets reflected Israeli efforts to cast Hamas as the source of the conflict that has brought additional misery to Gaza's 1.4 million people, who live in poverty in the densely inhabited shard of land along the Mediterranean. Israel hopes the suffering will erode support for Hamas, which won 2006 elections and engineered a violent takeover of Gaza in June 2007, overrunning the forces of its Palestinian rival Fatah.
For now, though, the fury of the Israeli onslaught has deepened bitterness toward Israel among trapped Gaza residents. Traffic through border crossings with Egypt and Israel is heavily restricted, and many Gazans survive on international handouts or goods smuggled through tunnels that are also used by Hamas to bring in weapons.
Israel launched the offensive on Dec. 27 after years of Palestinian rocket attacks on Israel, and has attributed many civilian casualties in the past two weeks to Hamas's alleged use of civilian areas as hiding places and staging grounds for attacks.
On Jan. 3, Israeli ground troops moved into Gaza, but they have largely avoided deployment in built-up areas where they would be more vulnerable to hit-and-run assaults. Israel holds elections in one month, and its leaders know staunch support for the military campaign could dwindle if the forces take heavy casualties.
Hamas fighters launched 15 rockets at southern Israel in a daily ritual that has severely disrupted life for hundreds of thousands of civilians. Three Israelis were injured in the city of Ashkelon.
The Israeli military said aircraft attacked more than 40 Hamas targets including 10 rocket-launching sites, weapons-storage facilities, smuggling tunnels, an anti-aircraft missile launcher and gunmen. At least 15 militants were killed, it said.
In the day's bloodiest incident, an Israeli tank shell killed nine people in a garden outside a home in the northern Gaza town of Jebaliya, said Adham el-Hakim, administrator of Kamal Adwan hospital. The nine were from the same clan and included two children and two women.
The Israeli military, however, said its forces did not carry out attacks in that area on Saturday.
Struggling to keep peace efforts alive, Egyptian President Hosni Mubarak and Abbas urged Israel and Hamas to agree to a truce.
After meeting Mubarak, Abbas warned there was no time to waste in ending the bloodshed in Gaza.
"If any party does not accept it (the truce), regrettably it will be the one bearing the responsibility. And if Israel doesn't want to accept, it will take the responsibility of perpetuating a waterfall of blood," Abbas said.
Hamas and Abbas's Fatah party, which dominates the West Bank, are fierce political rivals.
Copyright AP - Associated Press