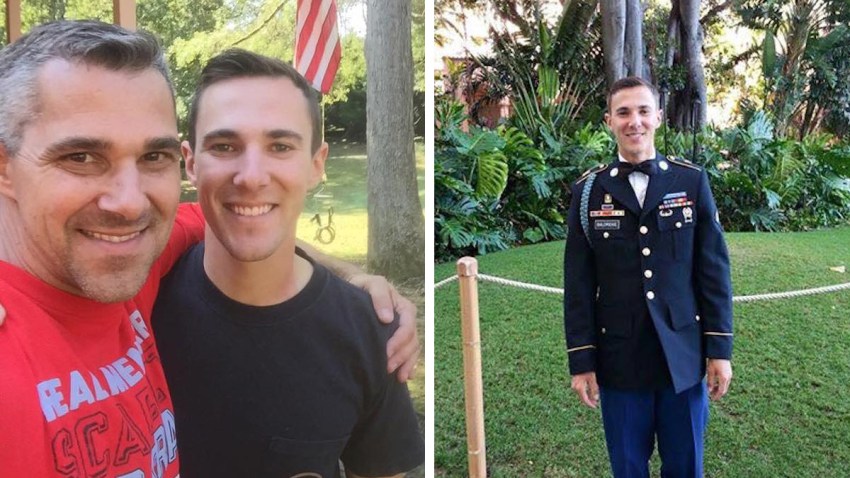 The grieving father of a 22-year-old soldier killed in Afghanistan said he received a $25,000 check from President Donald Trump Monday, months after the commander in chief offered to send him the money during a condolence call, WRAL.com reported.
The check is dated Oct. 18, the same day The Washington Post reported Trump had not yet fulfilled his promise to the Gold Star father. It came with a letter that said, "I am glad my legal counsel has been able to finally approve this contribution to you."
Army Sgt. Dillon Baldridge, of Zebulon, North Carolina, and two other soldiers were shot dead by an Afghan soldier on June 10 in the Achin district of Nangarhar province.
In an interview with the Post published last week, Chris Baldridge said he received a call from Trump a few weeks after Dillon was killed to talk about the loss of his son. Baldridge said when he expressed frustration with the military's survivor benefit program, Trump offered to give him a personal check for $25,000.
Asked about the Post's report on Oct. 18, White House Deputy Press Secretary Lindsay Walters told NBC News "the check has been sent."
"It's disgusting that the media is taking something that should be recognized as a generous and sincere gesture, made privately by the President, and using it to advance the media's biased agenda," Walters said.
The White House blamed the delay on an "approval process" that involves "multiple agencies anytime the President interacts with the public, especially when transmitting personal funds." It added that Trump "followed up several times to ensure that the check was being sent."
Dillon's stepmother Jessie Baldridge told Zebulon's WTVD the family plans to launch a foundation in his name to ensure his legacy of service lives on. Their first event will be a fundraiser to help a local preschool in town.
"Dillon would be proud of this," Jessie Baldridge said. "I mean who can say they started their foundation from a loan from the president of the United States?"

The controversy surrounding the $25,000 check came to light after Trump boasted two days earlier in a Rose Garden press conference that he reaches out personally to all families of the fallen, and wrongly asserted that past presidents had not.
Calling every family member isn't a presidential tradition. Trump's recent predecessors have reached out to Gold Star families through letters, private meetings and invitations, as well as calls. For Presidents George W. Bush and Barack Obama, who saw far more war dead on their watch, individual phone calls would have been a time-consuming task. Still, Trump suggested he did more to honor the families than his predecessors.

"I think I've called every family of someone who's died," Trump said, then adding, "virtually everybody." He said it's his practice both to make phone calls and send letters.
The Associated Press reached out to the families of all 43 people who have died in military service since Trump became president and made contact with about half the families. Of those who would address the question, relatives of nine said they had heard from Trump by phone or mail. Relatives of nine others said they haven't. Some of those who received calls were comforted, while others came away more upset.
The Associated Press contributed to this report.