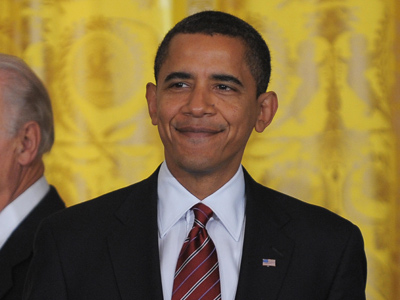 The annual Alfalfa Club dinner gave President Obama an opportunity to tell a few jokes in front of a group of Washington D.C.'s movers and shakers.
The annual event is closed to the press and supposed to be off the record, but it's not unusual for some one-liners to be passed along to the media--especially when done by the White House itself.
Obama used the event to make light of his entrance into what has previously been a very fair-skinned group of power brokers.
"I am seriously glad to be here tonight at the annual Alfalfa dinner. I know that many you are aware that this dinner began almost one hundred years ago as a way to celebrate the birthday of General Robert E. Lee. If he were here with us tonight, the General would be 202 years old. And very confused."
He also mocked his right hand man, White House Chief of Staff Rahm Emanuel, who is known for his hardball tactics and sometimes volatile demeanor.
"Now, this hasn't been reported yet, but it was actually Rahm's idea to do the swearing-in ceremony again. Of course, for Rahm, every day is a swearing-in ceremony.
"But don't believe what you read. Rahm Emanuel is a real sweetheart.
"No, it's true. Every week the guy takes a little time away to give back to the community. Just last week he was at a local school, teaching profanity to poor children."
The Alfalfa Club's sole purpose is to host its annual dinner which is held on the last Saturday of every January, according to Politico.
This is the 96th gathering of club members and one of the more prominent guests was Alaska Governor Sarah Palin.