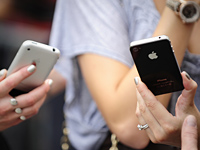 Apple said Monday that it had sold 1.7 million iPhone 4 phones through Saturday June 26, three days after it kicked of store sales of the devices, making for its most successful launch yet.
In a statement, Chief Executive Steve Jobs apologized to "customers who were turned away" because the company did not have enough supply.
"This is the most successful product launch in Apple's history," Jobs said.
Apple did not say whether the figure included pre-orders made on the company's website and in stores before the phone's official June 24 store launch.
AT&T is the exclusive US provider for iPhone.
Shares in Apple stayed around $266.70 in early trade after closing at that level in regular Nasdaq trade Friday.
Copyright CNBC