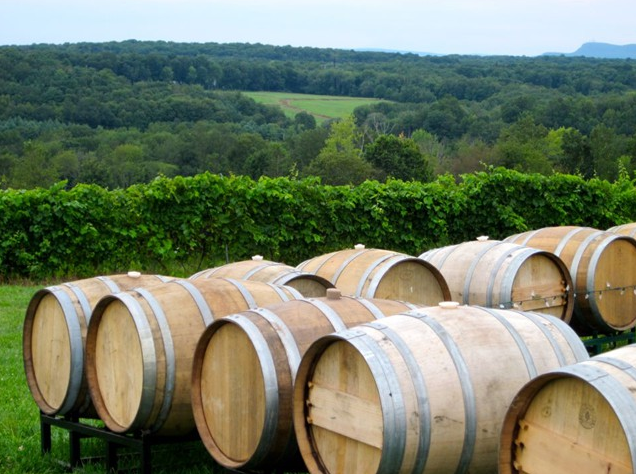 You don't have to be in Napa Valley to indulge in fresh wines and gorgeous scenery, the tri-state is packed with wineries and vineyards ideal for a quick day trip or weekend getaway. Fall is the coziest time of year to take your friends and family out of the city and into the country and the views at these vineyards are all the more convincing. Plus, who doesn't love polishing off a glass of wine (or three) while the leaves settle in the crisp air?
We scoured through some of the most divine, delicious and reasonable wine tastings on the east coast so you don't have to. Here are nine spots to visit for your fall wine fix. Chocolate included.
New York
Double Trouble: Applewood Winery, Warwick
Just an hour and 50 minutes outside of New York City, the family-owned farm opened its doors in 1993. Applewood's wine is fermented, bottled and sold on their premises and any of its 12 wines are just $6 a glass. Its tasting room is surrounded by mountains and views as far as the eye can see. Outdoor seating is also a plus and a café is open on the weekends with appetizers and pizza. The winery also makes its own hard cider, Naked Flock Cider.
Hours:
October: Open daily from 11 a.m. to 5 p.m.
November-December: Wednesday to Sunday from 11 a.m. to 5 p.m.
Take Your Pick (And Biscuit!): Millbrook Vineyards and Winery, Millbrook
Sitting on 35 acres of Hudson Valley are plantings of pinot noir, chardonnay, cabernet franc, and Italian grape varietal tocai friulano. Also planted is the German white grape riesling. Guests of Millbrook Winery, established in 1982, can walk the vineyards and are offered a choice of two tastings.
The Portfolio Wine Tasting: Offered daily from noon to 5 p.m. Sample six wines with a side of Tuscan olive oil and wine biscuits. It runs one hour at $12.50/person for the tasting or $15/person for a tour and tasting.
The Reserve Tasting: Reservation only, offered Thursday-Sunday. Sample five wines in addition to reserve selections from California vineyards. The tasting is $25/person, the tasting and tour is $27.50/person.
From New York City, travel just two hours through deep rolling hills before hitting Millbrook Vineyards.
Hours:
Open daily from noon to 5 p.m.
[[399081131, C]]
No kids, No problem: Jamesport Vineyards, Jamesport
You're in luck, Long Island. Jamesport Vineyards is close by and overlooks four acres of orchards and lawns. The tasting room is inside a rustic 165-year-old barn, and there is an outdoor wine bar. Wines are available in flights, by the glass or by the bottle. Here are their two tasting options:
1. Tasting Bar'n is a quick 30-minute experience featuring five wines. For $20 per person, seats sell fast so call ahead to make your reservation. And don't forget to leave your kids at home, this option requires guests to be 21+.
2. The cellar experience pairs the vineyard's best wines with their best bites (meat and cheese platters, wood fired pizzas, dessert). At $60 for adult and $15 for children, the cellar experience is a pricy but yummy option for families. Call ahead for reservations.
Hours:
Friday and Monday: noon to 5 p.m.
Saturday-Sunday: 11 a.m. to 6 p.m.
New Jersey
Vineyards by the Beach: Cape May Winery & Vineyard, Cape May
Up for a cozy picnic and a road trip down the Garden State Parkway? Exit zero has offered one of the most charming wine tastings for two decades. Taste five wines for $8 or tour and taste for $20. Guests can tour the sandy vineyards and facilities (occupying 70 acres) and snag a taste right out of an oak barrel. Also included is a fruit and cheese tray and how-to lessons. Not to mention they encourage visitors to bring their own food to snack on while sampling some of their 18+ wines. Cape May Winery is three hours outside of New York City.
Hours:
Sunday-Thursday: Noon to 5 p.m.
Friday-Saturday: Noon to 6 p.m.
Short and Sweet: Old York Cellars, Ringoes
Good news! Old York Cellars is a quick 90 minutes outside of New York City. For seven bucks guests can sample six wines, though there are plenty of options to pick from. If you live life on the sweeter side, join the Wine & Chocolate Tasting – for $20 guests get a flight of eight wines and a selection of hand-crafted chocolates. Other tasting options include Winemaker Tour & Tasting, the Sommelier Wine & Food Pairing, and the Wine & Cheese Tasting. All options range in price from $20-$40. Private and group tastings are also available. Bonus: You can find them on Groupon.
Hours:
Open daily Noon to 5 p.m.
Bang for Your Buck: Auburn Road Vineyard and Winery, Pilesgrove
If you're a large group with small pockets, look no further than Auburn Road. For $15 per person, groups can enjoy a tasting and plates to share. If you're not in a group, you can taste eight wines for $5 or sign up for a tour for $30. The tour is guided by one of Auburn Road's owners and goes for two hours on Saturdays and Sundays. It includes antipasti, a tasting of all available wines in the Barrel Room, a souvenir wine glass and more. A full menu is available to visitors and live music is offered just about every weekend, so it's ideal for those looking to let loose.
Hours:
Sunday-Wednesday: Noon to 5 p.m.
Thursday-Saturday: Noon to 9 p.m.
Connecticut
Packed Lunch Pairing: Gouveia Vineyards, Wallingford
Bring a snack and spend the day atop 140 acres of vineyards and views. Wine tastings are $12 per person and include four preselected wines and one of your pick. Cellar tours are held on Saturdays and Sundays from two to four. Gouveia Vineyards practices traditional Portuguese winemaking, producing 90,000 bottles a year. Their stone house, where your tasting will take off, looks over their hand planted orchards. With 12 wines to choose from, including chardonnay oak, whirlwind rosé and sunset red, what're you drinking?
Hours:
Monday-Saturday: 11-8 p.m.
Sunday: 11 a.m.-6 p.m.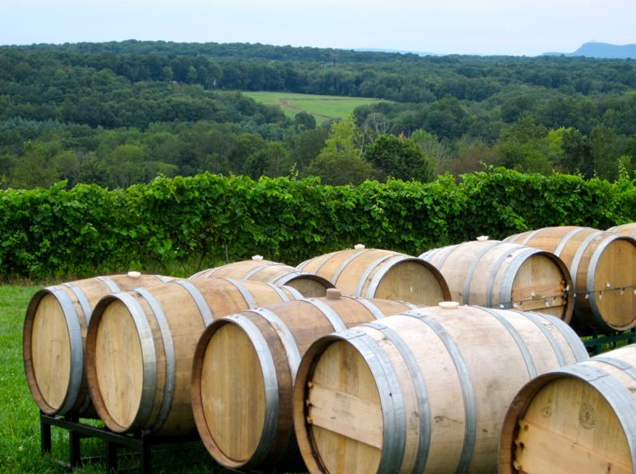 Wine, Dine and Dance: Chamard Vineyards, Clinton
If you're looking to wine and dine, Chamard Vineyard is your spot. The 20-acre vineyard is complete with a full farm-to-table bistro with intimate seating. Plus, they feature live music on Friday and Saturday nights.
Chamard offers a create-your-own tasting, so guests can pick three pours of any wine for $12. The tasting room is open to the public daily, but if you or a group would like to tour the vineyard in addition to a tasting ($20), call two weeks in advance. Established in 1983, Chamard's menu includes gourmet sandwiches, vegetable Parisian gnocchi, and crispy pork belly. Worth the two and half hour trip? Yep.
Hours:
Monday-Saturday: 11 a.m.-9 p.m.
Sunday: 11 a.m.-8 p.m.
Gram-worthy Relaxing: Sunset Meadow Vineyards, Goshen
At Sunset Meadow, guests can enjoy specialty chocolate and wine pairings, cheese and wine pairings, and the Litchfield Hills sunset. So if anything, you're leaving with a lush Instagram shot and certainly a satisfied appetite.
Located two hours and 40 minutes outside of New York City, Sunset Meadow Vineyards is an ideal weekend getaway. Their tasting offers a selection of 17 wines ­– 11 of them award-winning. They also offer group tastings and tours so long as reservations are made in advance. Keep in mind they're open year-round, even on holidays, so your getaway isn't going anywhere.
Hours:
Sunday, Monday, Thursday: 11 a.m.-5 p.m.
Friday-Saturday: 11 a.m. -6 p.m.