Follow the money — and the giant chickens.
The Women's March had the "pussyhat," and when protesters take to the streets in next week's Tax March they will have their own symbol: oversized inflatable chickens that look like President Donald Trump.
On April 15, protesters in more than 100 U.S. cities are expected to take to the streets in an effort to pressure Trump to release his tax returns. The chickens are expected join the marchers in at least a dozen cities.
The broad message of the protest is clear: Trump should release his tax returns — and he's a chicken for not doing so.
"You got the serious logical issue of the tax returns, then you got brilliant mockery of him," said Taran Brar, 31, an organizer of the Chicago march, which will feature a 33-foot inflatable Trump chicken.
Danelle Morton, a veteran journalist and first-time organizer, is responsible for the chickens. As she wrote in Slate, Morton tracked down the Chinese manufacturer of the Trump chickens, which were originally made to resemble roosters for a Lunar New Year celebration.
She launched a GoFundMe page to raise funds for San Francisco's chicken, which was quickly met. Organizers in other cities followed suit. And now the chickens will join marchers in more conservative towns like Houston and deep blue Chicago and New York.
The chickens range in size from 6 to 33 feet, organizers say. They have a mop of golden hair that resembles Trump's. The bird's hands are arranged in a pointing gesture like the one the future president made his signature when telling contestants "you're fired" on "Celebrity Apprentice."
But the chickens are only a slice of the Tax March's origin story.
Morton and Brar are among a group of grassroots organizers — many of whom have no prior experience in the field — who have embraced their role in the Trump resistance, guiding the march through its conception on social media to the final days of planning the nationwide action.
Frank Lesser, 37, an Emmy-award winning comedic writer formerly of "The Colbert Report," is credited with sparking the initial buzz around the protest.
A day after the Women's March on Washington, Lesser was procrastinating while working on a screenplay in a New York coffee shop, he said. He clicked on a story about the White House refusing to release Trump's tax returns.
"We litigated this all through the election. People didn't care," White House adviser Kellyanne Conway said about the tax returns that Sunday.
Lesser then wrote a tweet — now pinned to the top of his feed — that would go viral. "Trump claims no one cares about his taxes. The next mass protest should be on Tax Day to prove him wrong," he wrote.
"I figured that would get 30 or 40 retweets maybe," Lesser told NBC.
Instead, it's been retweeted more than 21,000 times, including by activist Michael Moore, writer Dan Savage and comedians Patton Oswalt and Billy Eichner.
Lesser's initial reaction to the attention was "holy s---! I guess this is actually happening," he said. "The whole time, I'm like, 'I'm not going to get back to my screenplay.'"
So he signed on to the organizing effort, but joked that he originally wanted to play a "secret, shadowy" advisory role: "I wanted to be the march's Rasputin. Or to reference someone who equally looks like he's been poisoned and then drowned: Steve Bannon."
As the organizing effort took off, Lesser dived in. He attended weekly meetings to help plan. He's communicated with media outlets, worked to enlist speakers and has helped publicize the march on social media.
He also worked to secure the New York march's chickens, one of which now sits in a cardboard box near the front door of his East Village apartment.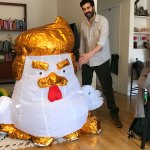 But Lesser and his tweet are far from the only factors responsible for the nationwide march.
Around the same time Lesser sent his tweet, Facebook event pages for tax marches across the country began to pop up.
In New York, two friends from college with no organizing experience created a Facebook event for the protest. Wes Shockley, 33, who works in media analytics, said he had not seen Lesser's tweet, but serendipitously put up the page after attending the women's march in New York with his friend Liz Tursi.
Experienced organizers from the Working Families Party, which plans pro-progressive taxation demonstrations every tax day, spotted Shockley's event and joined in the planning.
In San Francisco, Anne Pruett, a 25-year-old who works as a lab tech and studied biology in college, created the page for her city's march.
Pruett, who has no previous organizing experience, was recovering from ankle surgery at the time of the women's marches. She had seen some of the buzz about the tax marches and decided to create the group while recovering on disability.
"I just really had a lot of free time and a laptop, and there's a lot you can do with those two things," Pruett said.
In Chicago, Brar, a documentary filmmaker by trade, said he was inspired by Lesser's tweet to make the event page for the march there.
"That night it had 11 people signed up and by the end of the week it was thousands," Brar said. "It had gone viral."
And as April 15 approaches, the group of unlikely organizers are united under one tent. Aside from their local efforts, they exchange ideas nationally over the messaging app Slack and through an email list.
They've faced setbacks that seem to come with the grassroots territory. The march is now backed by at least 25 political organizing groups and various labor unions. Each have their own message and own views about the focus of the march.
There's even been debate about the chickens. Some of the organizers want to stress the serious issue that Trump has not released his taxes, others want to stress inequality in the American tax system, rather than the comical chickens.
Less than two weeks away, the months of herding cats appears to have paid off for the newly minted organizers. San Francisco now has four chickens that will join the marchers. A number of U.S. representatives are expected to speak at the march in Washington, D.C. And Pulitzer Prize-winning journalist David Cay Johnston will appear in a video interview to publicize the marches.
[NATL] Donald Trump Through the Years
Johnston published two pages of Trump's 2005 tax return in March, showing the president paid $38 million in taxes and had an income of more than $150 million that year.
Johnston's report was one of the few glimpses the public got of Trump's tax returns. In October, The New York Times published a story based on a leaked portion of Trump's 1995 state tax returns. They showed a loss of $916 million that year, in a move that could have allowed him to avoid paying taxes for 18 years, according to the Times.
Trump has downplayed releasing his tax returns, but polls show the marchers have public support. A recent Pew survey found 60 percent of Americans believe Trump has a responsibility to release his tax returns.
For the organizers, though, there are still uncertainties.
Shockley said that the New York organizers plan to hold a news conference Sunday to announce the march to local press. Possibly with a Trump chicken.