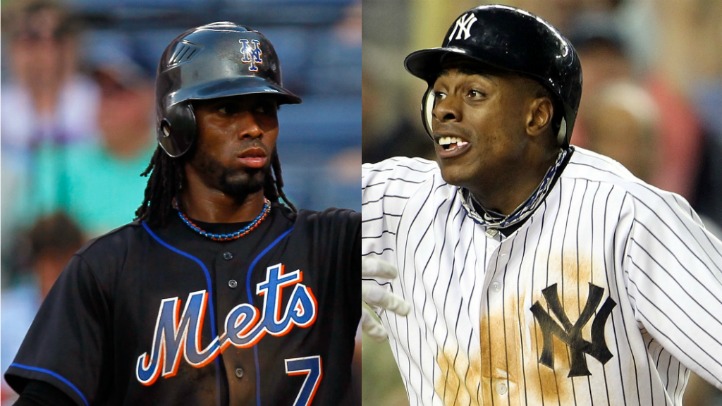 Those of us born too late to experience life in New York when there were three teams battling for affections have often wondered how great it must have been to be a witness to the days of Willie, Mickey and the Duke.
Nothing will ever bring those days back, of course, but the summer of 2011 is starting to feel like the next best thing. We've got a pair of MVP candidates dominating on a nightly basis and it is wearing out remotes all over the city.
On Tuesday night, the rain delay in New York meant that your trigger finger got a bit of a break. You had plenty of time to watch Jose Reyes lead the Mets to a win in the nightmare factory that is Turner Field while missing none of Curtis Granderson continuing his remarkable season during a rout of the Rangers in the Bronx.
Reyes singled in each of his first two at-bats, stole bases both times and scored the first two Mets runs of the game. He drove Ruben Tejada home with the final run of what became a 4-3 victory in the kind of stat sheet stuffer of a performance that has become a nightly occurence this season.
Meanwhile, back at home, Granderson was going 2-for-4 with four RBIs as an essential cog in the machine that handed Rangers starter Alexi Ogando his first loss of the season in a 12-4 laugher. One of the hits was Granderson's 21st home run in the season, tying him with Jose Bautista for the most in baseball.
The two of them have been this good all season and their seasons have been made all the better by the accompanying backstories. Granderson worked all offseason to become a completely different hitter than he was in his first season with the Yankees, while Reyes is finally fully healthy and able to display the full complement of his talents to Mets fans who can't imagine life without him.
All of that led Joel Sherman of the Post to send out a tweet designed for classic barroom discussions all around the city. "Who is the MVP of NY baseball at this moment: Granderson vs. Reyes"
The numbers are awfully close with Reyes holding a slight edge in Wins Above Replacement thanks to his baserunning and the fact that he plays shortstop. Reyes has also been carrying the Mets offensively with Ike Davis and David Wright out of action, boosting his value beyond any metric other than his team's record.
Granderson's got the superior offensive numbers, although it is a similarly slim margin, and he's no slouch in the covering for others department either. Derek Jeter made 11 players on the Yankees disabled list on Tuesday and Grandy's slugging has helped the team make up for fairly dreadful production from Jeter, Jorge Posada and Nick Swisher thus far this season.
If there was a vote right now, Reyes would probably get the nod because we really can't imagine the Mets winning a single game without him in the lineup. We're glad that there's no need to vote, though, because all we want is for both guys to keep doing this all summer long.
Josh Alper is a writer living in New York City. You can follow him on Twitter and he is also a contributor to Pro Football Talk.
Copyright FREEL - NBC Local Media