Millennial New Yorkers now face a years-long slog in order to save enough for a home deposit, with some needing almost two decades to save, a new study finds.
Exploding student debt and property prices, mixed with stagnant incomes, has resulted in a climate where young New Yorkers are struggling more than ever to save for a home, the Rentonomics Apartment List report, released Thursday, found.
Nowadays, the average Millennial New Yorker without a college degree would need 18.8 years to save for a 20 percent deposit on a home.
And a New York college graduate would need to commit to 7.5 years of dedicated saving to have enough to make a down payment.
Some of the World's Most Affordable Housing Is in New York (Yes, Really)
The study also found that the average college graduate without student debt was much better placed to save for a house. Those grads only needed 2.7 years to save for a home deposit.
"We found that indebted college graduates are saving significantly less for a down payment compared to those without debt, while those without a college degree save even less."
Rentonomics surveyed over 11,000 millennials across the U.S.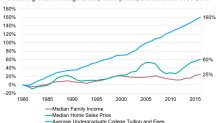 It said the numbers reflected how much the average cost of undergraduate tuition has risen over the years. Since 1980 it had shot up by 160 percent, it said. That's compared to median income growing by a sluggish 25 percent, and house prices becoming more expensive by 60 percent.
BY THE NUMBERS
Average home deposit savings of NY college grad without student loans: $32,040
Average home deposit savings of NY college grad with student loans: $10,470
Average home deposit savings of NY millennial without college degree: $4,730
Robert DeNiro's Former Manhattan Penthouse on Market for $22 Million