What to Know
The storm system was weakening as it moved over New Jersey and was expected to continue doing so overnight
Tropical Storm Fay is the first official tropical storm to make landfall in the region since 2011; it's the first tropical storm warning for NYC in July since 1996
Saturday beachgoers be wary, rip currents will remain high and isolated thunderstorms are possible in the afternoon
Tropical Storm Fay rolled through the tri-state region Friday, churning northward with winds up to 60 miles per hour and heavy rains that caused flash flooding before it made landfall in northeast New Jersey shortly before 5 p.m.
The storm system was weakening as it moved over New Jersey and was expected to continue doing so overnight, the U.S. National Hurricane Center said in its 8 p.m. advisory. Wind gusts will hover at 45 miles per hour through Friday evening, Storm Team 4 says, and linger well into Saturday.
Forecasters predict Fay will continue moving inland, then up into southeastern New York and western New England into Saturday. Beachgoers be wary, rip currents will remain high and isolated thunderstorms are possible Saturday afternoon after a quieter morning.
Fay, a system that started developing off the coast of North Carolina, became the first tropical storm to make landfall in the region since Irene in 2011. Both Irene and Sandy made nearly identical landfalls to Fay on the New Jersey coast.
Landfall was recorded approximately 10 miles northeast of Atlantic City around 4:50 p.m., but its power was felt well before then. Most of the tri-state had a thorough soaking by 4 p.m. with many spots, including Central Park, recording two or more inches of rainfall.
The storm system was expected to bring 2 to 4 inches of rain, the U.S. National Hurricane Center said in its 5 p.m. advisory. That's down from earlier forecasts of about 3 to 5 inches of rain.
New York City and much of northeast New Jersey was placed under a Flash Flood Warning until 5:30 p.m. As the heaviest rain moved out, stronger winds moved in behind.
The Court Square subway station in Queens felt the impact of flash flooding, almost one year after a man waiting at the same station was knocked over by a rush of flood water and onto the tracks. Nicole Johnson recorded video of Friday's flood waters pouring into the Queens stop just after 3 p.m.
"Tropical storms mean significant amounts of rain and not surprisingly some of that water has made it into our subway system, via blocked drains and vents, in some cases due to a backup of city catch-basins," a spokesperson for the MTA said, who added the reported flooding was quickly addressed."
Multiple locations on the Jersey Shore already reported street flooding from the morning's rains, with parts of Route 35 and Route 66 closed due to water. Isolated parts of Brooklyn and lower Manhattan experienced road closures due to flooding as well, and northbound subway service on the B and Q lines were suspended due to a fallen tree on the tracks. NJ Transit experienced similar weather-related delays up to 45 minutes on its Morris and Essex rail lines Friday afternoon.
At least one rescue was performed in Hackensack when a vehicle became stranded by rising flood waters. The fire department tweeted video of a high-water truck team responding to rescue two people and a cat from inside.
Nearly all of the tri-state felt the storm's impact, with gusty winds, intense surfs and tropical downpours. Early reports had parts of coastal Maryland getting more than 5 inches of rain as the storm went by, and the NWS said some places could see as much as 7 inches.
New Jersey Gov. Phil Murphy, in a Friday news conference, urged people to avoid unnecessary travel and said the White House had checked in to offer help.
Click here to check the latest severe weather alerts in your neighborhood.
A widespread 1 to 3 inches of rain could fall, with up to 4 inches possible locally. A flash flood watch was issued for the entire tri-state area through Friday night. With the strong winds, forecasters warn of dangerous rip currents and waves as high as 10 feet tall.
According to the National Hurricane Center, July 9 marks the earliest a storm has been named starting with F (given to the sixth named storm of the year) in recorded history. The National Weather Service tells NBC News it is the first July tropical storm warning for New York City since Bertha in 1996.
The storm won't bring much relief to the uncomfortable air. It's expected to stay near 90 and humid for the next 10 days, though the mercury may not climb as high as it did Monday, when Central Park hit 96, its hottest since July 1, 2018.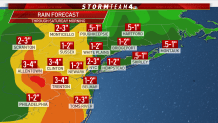 With pools still closed, New York City has installed nearly 35,000 air conditioners for low-income seniors and has 145 cooling centers ready to reopen with COVID precautions in place. It plans to open more in the coming days and weeks.
Temperatures will fall about 10 degrees, to around 80 on Friday, but heat won't be the main focus for that day. Fay is expected to exit by lunchtime Saturday and skies will briefly clear before another quick round of thunderstorms roll in. Sunday should feature clear skies as the heat builds once again going into next week.
Track the approaching storms using our interactive radar below.
Copyright NBC New York