Police say a young boy inside a Brooklyn subway station was grabbed by a man who cops say told the child he was "going to get him."
The NYPD said around 8:30 Tuesday morning, the man grabbed the 11-year-old boy by the arm inside the Myrtle-Wyckoff Avenue station stopped him from getting on the train.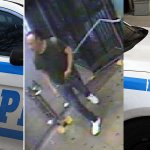 Officials say the suspect then followed the young boy as he tried to get away from him. The boy ran and found help from a good Samaritan who then call police.
The suspect then fled the area by getting on an uptown M train.
The 30-something-year-old man was last seen wearing a black shirt.
Investigators urge witnesses to call Crime Stoppers with tips that could lead to an arrest of the man.
[NATL] Top News Photos: Pope Visits Japan, and More