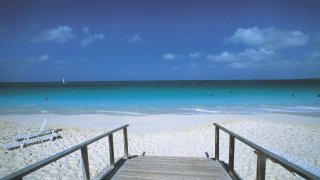 A 22-year-old Connecticut woman is hospitalized in serious condition after losing her leg in a shark attack while snorkeling in the Caribbean, authorities say.
The woman, who has not been identified, and a friend were in the water outside Blue Haven Resort in Turks and Caicos Wednesday afternoon when she was attacked, police say.
Blue Haven says the women weren't staying at its property, but police say a resort employee saw the women after the attack and called for help. The employee indicated the woman's leg had been completely bitten off, officials say.
She remained hospitalized Thursday. It didn't appear the friend was seriously injured.
There was no indication of what kind of shark may have been involved.
The investigation is ongoing.
Copyright NBC New York