What to Know
Severe weather threatens the tri-state Thursday, which will likely bring lightning and destructive winds; there's also a chance for flash floods
While some storms could turn severe, most of the region will see heavy rain as the damp, humid weather pattern that hit earlier this week sticks around
Labor Day weekend is shaping up to be downright gorgeous at this point, with temps forecast in the comfortable high 70s and low 80s amid plenty of sunshine through Monday
Storm Team 4 is tracking the chance for severe weather across the tri-state area Thursday as storms triggered by a powerful cold front approach the region.
Heavy rain and destructive winds are likely with Thursday's storms, which are expected to start firing up across the area by early evening. Tornadoes and flash floods are also possible, though less likely. A tornado watch was issued for Ocean County in New Jersey until 10 p.m. The greatest threat for severe weather is between 6 p.m. and 10 p.m. and primarily in South Jersey.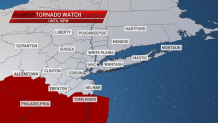 While some storms could turn severe, most of the region will see heavy rain as the damp, humid weather pattern that hit earlier this week sticks around. Temperatures capped out around 85 degrees across the tri-state, though the humidity made it feel even warmer and more uncomfortable outside.
Another cold front pushes through Friday, which should lower the heat and humidity as sunshine returns. Labor Day weekend is shaping up to be downright gorgeous at this point, with temps forecast in the comfortable high 70s and low 80s amid plenty of sunshine through Monday.
Track the approaching storms using our interactive radar below.
Copyright NBC New York