A Connecticut mother who has taken refuge in a church to avoid deportation is one of a dozen immigrants staying in houses of worship nationwide under a sanctuary movement invigorated by President Trump's positions on undocumented immigration.

The case of Nury Chavarria, which has received national attention, comes after the Trump administration expanded the categories of people to be deported and specified that no one was protected.
Chavarria refused to leave for Guatemala last week as ordered by U.S. Immigration and Custom Enforcement, instead fleeing to Iglesia De Dios Pentecostal in New Haven. The 43-year-old single mother of four, who entered the United States illegally in 1993, said she did not want to be separated from her children.
Her oldest, her 21-year-old son, has cerebral palsy, according to the Hartford Courant. Her youngest, 9-year-old Hayley, issued a public plea on behalf of her mother.
While Chavarria remains in the church, it is unlikely that ICE agents will move to detain her. The agency typically avoids making arrests at what it calls "sensitive locations," including houses of worship, schools and hospitals and doctors' offices, though exceptions can be made. ICE also tries to steer clear of religious and civil ceremonies such as funerals and weddings.
The agency did not immediately respond to a request for comment about the status of the policy. It appears to remain in effect, according to its website.
Kica Matos, the director of immigrant rights and racial justice for the Center for Community Change, who is representing Chavarria, said she expected ICE to fully honor its policy and not try to deport Chavarria while she remains inside the church.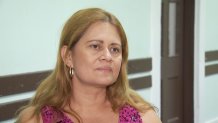 Church World Service, a coalition of Christian denominations that has assisted refugees for 70 years, said it knows of no instances in which ICE agents entered a congregation. There have been cases of ICE agents waiting across the street, it said, and of arrests taking place near a church and school.
In Fairfax, Virginia, in February, ICE agents detained men who had just left a church shelter, where they had gone to stay warm. ICE told Time magazine that the location was a coincidence and that it was not targeting churches. In Los Angeles in March, a father who had been ordered deported, Romulo Avelica-Gonzalez, was taken into custody blocks from his 12-year-old daughter's school, where he had dropped her off. Another daughter was in the car with him.
The sanctuary movement began in the 1980s under President Reagan and was revived under President Barack Obama.
"It's grown a lot, and after the election is when we saw just a bigger spike," said Myrna Orozco Gallos, an associate with the Church World Service's Immigration and Refugee Program.
The number of congregations offering to provide sanctuary has jumped from 400 to 800 since Trump took office. Although raids took place during the Obama administration too, ICE's detentions have gotten new attention because of Trump's stance on undocumented immigrants.
The organization has kept track of 29 public cases in the last three years, she said.
Chavarria, a housekeeper who has no criminal record and pays taxes, applied for asylum when she arrived but was denied. She was supposed to leave the country in 1998, but did not comply, and then in 2010, was given a one-year stay of the deportation order on humanitarian grounds. She complied with yearly check-ins with immigration officials and each year received an extension of the stay to allow her to raise her American-born children — until June, when an ICE official told her she had to depart by Thursday.
"I told him, 'I'm not a criminal,'" she said last week. "I'm a mother of four children. They are citizens, USA. I want to stay here to help them and keep my family together."
Chavarria's supporters are hoping to win her another reprieve. Connecticut U.S. Sen. Chris Murphy, a Democrat, is among those urging that her case be reconsidered. He told the Hartford Courant that Chavarria had ineffective counsel in her asylum case; other members of her family were granted asylum, he said, while her attorney was later disbarred.
Among the dozen people who have sought refuge is Ismael Delgado, who has been staying at a church in Phoenix, Arizona, since October 2015, according to the United Church of Christ. Delgado, who ran a restaurant, has lived in the United States for 20 years and has two children.
Another undocumented immigrant, Jose Juan Federico Moreno, took shelter in a church on the South Side of Chicago more than a year ago rather than return to Mexico. Moreno, who worked for a furniture moving company, was targetted after getting a DUI in 2009.
Others will stay only a few months.
There have been successes among the movement. Two immigrants, Jeanette Vizguerra and Arturo Garcia from Denver, both received two-year reprieves in May. Vizguerra, who is from Mexico and who has lived in the United States for 20 years, left a Baptist church in Denver after she got a stay until 2019. Garcia, who is also from Mexico, had lived in the basement of a Unitarian church in 2014 and 2015 but emerged when he was told his case was not a priority, according to the Denver Post. Garcia, who owned a floor tile-laying business with his brother, was arrested in April 2016 and later was granted a stay, the newspaper reported.
Church World Service is holding a meeting in Texas on July 28 and July 29 at the Austin Presbyterian Theological Seminary. Its goal is to provide training and to develop a framework for the sanctuary movement.
---
Here are the other undocumented immigrants living in houses of worship across the country, according to published reports and Church World Service:
Rosa Sabido, a Mexican national, has taken refuge in a church in Mancos, Colorado. She had lived in the United States for 30 years on visitor visas or through stays of deportation but faced immediate deportation in May. Residents have volunteered to stay overnight at the church to make sure she was not alone. Her lawyer told the Los Angeles Times she had no criminal record and had worked as a church secretary and tax preparer at H&R Block. Sabido applied for permanent residency in 2001, a case that is pending, according to the Los Angeles Times.
Juana Ortega, an undocumented grandmother from Guatemala, took sanctuary at a church in Greensboro, North Carolina, in May. She came to the United States in 1993, seeking asylum, and when her attempts failed got repeated stays on her removal order, according to CNN. At her first check-in with ICE under Trump's administration she was told she had until the end of May to leave. Ortega is married to an American citizen; her youngest child is a teen-ager, CNN reported.
Minerva Garcia is a mother from Mexico who has worked temporary jobs, has no criminal record and has paid taxes for 17 years, according to the Winston-Salem Journal. She also sought refuge at a church in Greensboro, North Carolina, when she was facing deportation at the end of June. Garcia came to the United States looking for better care for her oldest son, who is blind and who was 5 at the time.
In Philadelphia, Javier Flores, the father of three U.S.-born children, moved into a church in November, according to Philly.com. He entered the country illegally in 1997 and has been deported multiple times. He re-entered, also illegally, to be with his wife and children. He applied for a special visa available to undocumented immigrants who assist authorities in the prosecution of a crime in which they were injured. Flores was attacked with box cutters in an apparent failed robbery.
A Reno, Nevada, church gave sanctuary to David Chavez-Macias in April. Chavez-Macias, who has lived in Reno for 29 years, had a work permit that was revoked because of a traffic ticket — he turned left on a red light. He has Marfan syndrome, a genetic disorder that weakens his heart, and he relies on treatment in the United States, according to NBC affiliate KRNV.
Emma Membreno-Sorto, a Honduran immigrant who has been ordered deported, took shelter at a church in Albuquerque, New Mexico, in March. Membreno-Sorto applied for political asylum when she arrived from Honduras about 25 years ago, but did not receive notice of a court date, according to the Albuquerque Journal. She moved from Atlanta to Colorado to New Mexico and learned of the deportation order when she was taken into custody at her home in 2011. She has only one traffic ticket and no criminal history, the newspaper reported. Her husband is a U.S. citizen.
Sixto Paz, a homeowner and the father of three U.S. citizens, moved into a church in Phoenix, Arizona, in May 2016. He started working in the United States through a government amnesty program in the 1980s, but an immigration court in Phoenix denied his petition to stay in the country, according KPHO. He had been working as a roofer.
Lorenzo Solorzano Morales has been staying at the Faith, Life and Hope and St. Peter the Apostle Mission in Chicago with his wife and 7-year-old daughter since October. He faces deportation for an arrest on a domestic battery charge in November 2011, according to the Chicago Tribune. He pleaded guilty to a misdemeanor charge, accused of pulling a woman's hair during an argument, the newspaper reported. A landscaper, he has lived in the United States for 30 years.
A woman who has remained anonymous sought refuge at a church in Cambridge, Massachusetts, in May. She told the Boston Globe that a man took her against her will from her hometown in Ecuador to the United States. She was arrested crossing the border in 2012 and was detained in Arizona for about a year because she could not pay $7,500 in bail; eventually she was released and went to the Boston area. She got a job as a cook, had two children with a partner but lost her asylum case and an appeal, according to the Boston Globe.
Correction (July 24, 6:45 p.m. ET): An earlier photo caption misspelled Nury Chavarria's surname.