A rowdy and rude city bus rider who was kicked off for causing a scene spit on the driver when getting off and then hit her with his cane in Brooklyn, police say.
The NYPD says on Aug. 9 around 11:30 p.m., the rider was being rude to other passengers and was asked by the driver to get off the MTA bus. As the 50-something-year-old man was getting off in the area of Downing and Fulton streets in Prospect Heights, he spit on the woman driver, police said.
The driver then followed the suspect off the bus to prevent him from getting away, but the man turned around and hit her on the shoulder and hip with his cane, according to the NYPD. The man then ran away, heading east on Fulton Street.
The bus driver was taken to an area hospital, where she is in fair condition.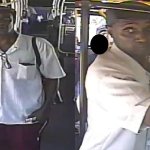 Police Monday night released surveillance images of the man in the hopes of catching him. He is seen wearing a white shirt, red pants and a black hat.
Witnesses are urged to call the NYPD with tips that could lead the man's arrest.
Top Tri-State News Photos