What to Know
ConEd said its underground transmission feeder caused a voltage disturbance that lasted a fraction of a second for all customers and the cause of the trip is under investigation
The FDNY had to help about 300 people off five trains that were stalled south of the platforms at 149th St and Grand Concourse
Gov. Kathy Hochul on Monday called the disruptions "unacceptable" and told affected subway riders "the system failed you." She also called for a full investigation into what happened
Gov. Kathy Hochul called for a full investigation Monday into the "unprecedented confluence of events" that stranded hundreds of New York City subway riders between stations the night before and evacuated nearly a half-dozen trains as a brief power surge wreaked havoc on the MTA's communications and signal system.
More than 80 trains and 550 passengers were ultimately affected, including about 300 who got stranded between rail stations in the Bronx and had to be helped out.
Hours after directing the internal review early Monday, Hochul said in an afternoon statement that in a preliminary assessment, "the MTA has uncovered a sequence of failures that resulted in some backup systems not providing power as designed last night, including an additional failure to quickly diagnose the underlying cause."
The Democrat said she ordered the MTA to retain two independent engineering firms to assist in a comprehensive audit of what happened and to make recommendations to ensure nothing similar happens again.
"My message to the riders is this: We are working to find out the full extent of what went wrong, and we will fix it," Hochul said. "New Yorkers deserve absolute confidence in a fully functioning subway system, and I promise to do everything in my power to restore that confidence."
The trouble started around 8:30 p.m. Sunday when ConEdison reported briefly losing an underground transmission feeder that caused a citywide voltage dip that lasted a fraction of a second for all customers, many of whom reported flickering lights.
At the same time, two power plants and generators went offline, Hochul said.
"It was a momentary outage that did go to the backup system," the governor added. "When it tried to go back to normal, there was a surge, an unprecedented surge that resulted in the subway losing signalization and communication ability and it lost that between its command center and the trains throughout the system."
An MTA official said that the battery-powered backup system kicked on to keep the subway system operational, and that two backup emergency generators (which would replace the battery power) are designed to operate automatically when a loss of power is detected. The entire system is designed to return to power from Con Edison once it becomes available; problem is, that didn't happen, the MTA official said, and the system continued to run on battery power.
The alert system that notifies subway management of failures like what the agency saw didn't send any alerts, leading those in control to believe that everything was working properly. The batteries, which are not designed to provide long-term power, energized the system for about 45 minutes before giving out at 9:14 p.m., according to an MTA official.
That's when the drama kicked into high gear for straphangers. The MTA said around 9:30 p.m. there was "extremely limited service" on the 1, 2, 3, 4, 5, 6, 7 and L lines. The power surge affected the ability to make station announcements from the Rail Control Center, and five trains got stuck between stations in the Bronx.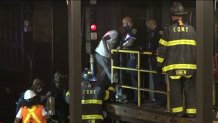 Hochul said the stranding of those passengers, about 300 of them, was her prime concern. The FDNY had to help them off the trains. Some said they had been stuck for at least an hour. Some took it upon themselves to leave the trains on their own, which Hochul said is something "we never, ever want riders" to do.
"It is dangerous and it caused a delay in the restoration of power. The tracks are dangerous and the last train was re-platformed," she said. "What we experienced was a lot of anxiety for the citizens of the city who happened to be on the trains, and on the five trains in particular that were between the stations over 550 people were affected. Again, this is a scary situation, something we don't want New Yorkers to ever have to experience again. And again, I say this was unprecedented. The confluence of events that led to this has never happened before to our knowledge."
Service eventually resumed before midnight but with "extensive delays." NYC Transit's Twitter account read like a litany of woe through much of Monday's rush hour. Get real-time commute updates from all your key transit sources here.
"Last night was unacceptable. If you're one of those riders or people relying on safe transport, the system failed you," Hochul said Monday. "I can only imagine how devastating this would have been for thousands of New Yorkers had this occurred during a morning commute."
Hochul called for an immediate and thorough internal review to ascertain the root cause of the service issues, which the MTA says it will do.
"We need to know why the system broke down and why there's a breakdown of communications between the rail center, the rail control center and the trains," the governor said. "I would also be clear that we've had no indication of any malicious actions that would, that would have created the situation, and that's why I want to find out exactly what happened to prevent it from happening again."
The cause of the ConEd trip remains under investigation as well.
"We understand the MTA lost some communications to and from their Rail Control Center located in midtown Manhattan. We are in contact with the MTA to understand why they lost this communication at their rail center during this voltage disturbance," a company spokesperson told NBC New York Sunday night.
Mayor Bill de Blasio acknowledged the transit disaster at his daily COVID briefing Monday but said, "Thank God it was contained," and said service was improving.
"This was a strange series of events and we don't know how they connect but we've got to know," he added -- and echoed Hochul's urgent warning against straphangers leaving stalled trains without the aid of emergency personnel. "We don't know how much of this was ConEd, we don't know how much of it was MTA -- and we need these answers. We need everyone to be very transparent."
The FDNY also said it responded to a manhole fire near a large public housing complex in Long Island City about an hour before the subway disruptions.
No one was injured and the fire department said the blaze near the Queensbridge Houses was under control within half an hour.
Footage posted online showed a large column of smoke rising behind the Ravenswood Generating Station, the city's largest fossil fuel plant, which is located near the housing complex.
Copyright NBC New York/Associated Press