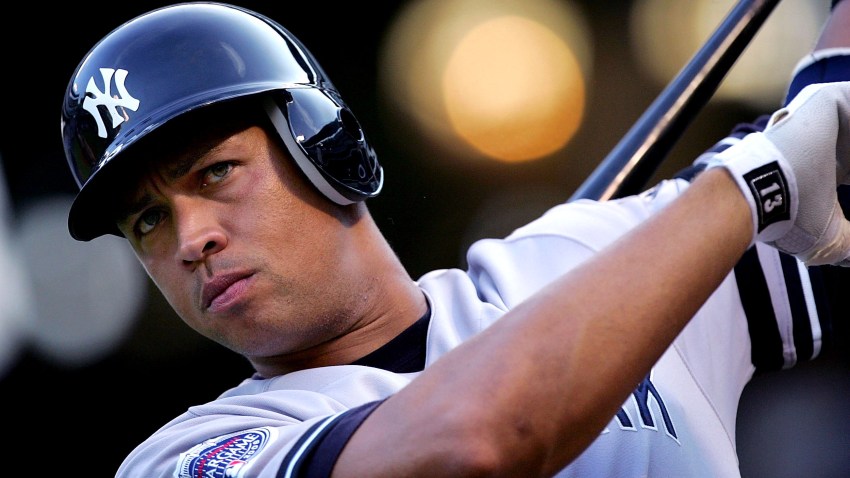 The Yankee Year just gets worse and worse for Alex Rodriguez.
He led off January with his divorce from his wife becoming official. A few weeks later, a book by former manager Joe Torre reported Yankees teammates referred to the slugger as "A-Fraud."
And now, on the cusp of spring training, the three-time MVP once seen as the clean heir apparent to Barry Bonds' tainted home-run record is himself sullied, several reports said Saturday. Rodriguez tested positive for anabolic steroids in 2003, when he played for the Texas Rangers, Sports Illustrated reported, citing four unnamed sources.
Now "A-Fraud" seems quaint when "A-Roid" is being tossed about — especially when the latter moniker spells endorsement doom.
Though his income from companies is mild compared to, say, Tiger Woods — the golfer pulls in more than $100 million annually — Rodriguez still is estimated to earn $6 million through contracts with Nike, Rawlings and others. He is among the top 25 athletes in U.S. sports in endorsements and trails only teammate Derek Jeter among ballplayers.
But there is a good chance those deals will either be terminated by frustrated firms or will not renewed when they expire (Nike's pact ends in 2010). Sponsorship spending is already shrinking in the horrid economy; the IEG Sponsorship Report projects a 1.8 percent increase in sports sponsorship outlays in 2009, compared to a 14.7 percent jump in 2008, and companies are looking for any excuse to cut back on marketing. A-Rod has offered the perfect opening to his corporate partners to cut ties and save money.
Funny thing is, the Yankees third baseman hired the William Morris Agency last summer to work on his image, partly in hopes of landing more endorsements. Despite his 553 home runs and good looks, Rodriguez, 33, still hadn't capitalized fully on his endorsement potential. Michelle Wie, far younger and playing women's golf — whose following is nowhere near that of baseball — brought in triple the money Rodriguez did in endorsements in 2007, Sports Illustrated reported.
Now, though he's in the prime of his career and plays in the top media market for one of the best-known teams in the world, Rodriguez is in trouble: His opportunities for new deals are just about dead. True, he has been hampered by the fact he hasn't led the Yankees to a World Series in five seasons (and didn't even push them into the playoffs last season, their first miss since 1994). But Rodriguez had been banking on his stellar on-field performance and a fairly decent reputation (marred only by allegations of a penchant for strippers and Madonna) to cash in.
But a steroid accusation is the kiss of death to companies wanting to put a ballplayer in its ads.
Once allegations of Jason Giambi's steroid use were publicized, he soon lost pacts with Nike and Arm & Hammer. Companies shunned Bonds when he chased Hank Aaron's home-run record because of steroid accusations. Seen any of those Roger Clemens' AT&T commercials lately?
These once sure-fire Hall of Famers, along with Mark McGwire and Sammy Sosa, are no longer guaranteed to ever enter the Hall — unless they pay an admission fee. Whereas Hall of Famer Cal Ripken's reputation for hard work and integrity means he can still promote products and pull down $50,000 or more for a speech, the accused have lost the chance to make easy millions in retirement.
In many ways, it's amazing companies still tie their fortunes to sports stars, given the unpredictability of their conduct. Michael Phelps defined perfection in the Beijing swimming pool, but his yen for an apparent pot pipe prompted Kellogg to drop him as an endorser recently. Michael Vick's predilection for illegal dog fighting led Rawlings and other sponsors to abandon the Atlanta Falcons quarterback.
One-time track star Marion Jones lost gold medals and endorsements when she confessed to steroid use. McDonald's refused to do business anymore with Los Angles Lakers' star Kobe Bryant once he was accused of rape (He later settled the case). O.J. Simpson? Hertz didn't want anything more to do with him when he was charged with double murder.
"Athlete misbehavior, both on and off the field, seems to be so prevalent in this era of 24/7 media that I fear no one is surprised when revelations such as this surface," said David Carter, the executive director of the USC Sports Business Institute. "I'm starting to wonder if the sports industry is going to run out of asterisks."
They better save one for 2013 or so, when A-Rod is expected to challenge Bonds' home-run mark. For the second time in a generation, the great baseball record probably will be shattered — and again no companies will associate themselves with the star of the historic feat.
Copyright MSNBC - MSNBC