New York City police shot and killed a man armed with a 7-inch knife who allegedly charged officers in Brooklyn early Monday morning.
Police say officers responded to a call around 4:10 a.m. about a man carrying a knife and firearm at 1090 Eastern Parkway. When they arrived, officers confronted a man who had a knife in one hand and the second hand tucked inside his jacket pocket, Assistant Chief Michael Kemper said at a press conference later that morning.
Kemper said unreleased body cam footage shows multiple officers call to the man to drop the knife, commands that were ignored as the man descended into the nearby subway station at Utica Avenue.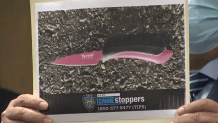 Multiple officers followed the man, who has not been identified by officials, into the station, where two cops deployed tasers after the man still wouldn't drop the knife, police said.
The tasers proved ineffective, possibly due to the man's heavy winter jacket, police have speculated.
Kemper said that after the tasers failed to subdue the man, he retreated back out of the station with his knife where he met additional officers on the street. That's when the man moved towards the officers and "suddenly charged" at them, the assistant chief said.
"It was at this point that he ran, literally ran, at one of the officers with the knife," Kemper said.
Two officers fired about 10 shots at the man, striking him an unknown number of times.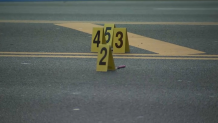 EMS picked up the man and transported him to Kings County Hospital where he later died, police said.
Police said the encounter was captured on officers' body cameras; no video has been released yet.
The state attorney general's office of special investigation, which looks at law enforcement-involved deaths, said it would be assessing the circumstances of the man's death.
Copyright NBC New York