A police officer riding a small motorcycle in the Bronx was struck by a car Sunday morning, the NYPD said.
The officer, who was on duty, was struck at East Tremont Avenue and East 180th Street in the Bronx, police said.
He suffered a leg injury and was taken to Jacobi Hospital, the NYPD said. He was conscious and is expected to survive his injuries.
Video from the scene shows the overturned scooter surrounded by police tape. A red sedan is seen parked nearby.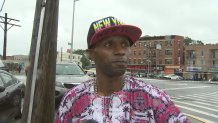 Lageeandre Greene said he and his family were on their way to church and had a green light when the officer came through the intersection on the scooter and their vehicles collided.
"As I saw the officer and us were about to collide, I said, 'Hit the breaks!'" Greene said.
"The officer bumped into our car and he tried to gain, you know, keep his motorcycle straight, and he swerved into at least two other cars," he said.

Greene said he and his family jumped out and went over to the officer to make sure the officer was okay. He said his family had the right-of-way, but that he's just happy the officer wasn't seriously injured.
"I just want to thank God that the officer is alright. Bottom line," he said.
Police are investigating and haven't said who they believe was at fault.