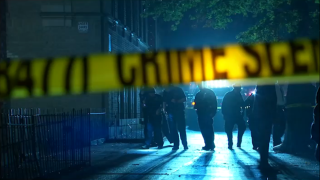 An aide to New York City Mayor Eric Adams was robbed at gunpoint Tuesday morning in Brooklyn, top law enforcement and city officials said.
A member of Adams' advance team was accosted around 10:30 a.m., according to two NYPD sources and a City Hall official.
Sources say the aide was walking in the vicinity of Hudson and York when the incident took place.
The suspects allegedly approached the aide and demanded property -- ultimately robbing the aide of his cell phone and wallet.
One of the suspects, according to police sources, stuck his leg out and shoved him to the ground referencing where he worked.
According to police sources, one of the suspects lifted his shirt and the aide saw a handle of a firearm.
One of the men allegedly fled on a CitiBike.
In a statement, Fabien Levy, the press secretary to Adams, said the aide "deserved to be safe while conducting his job, just like every other New Yorker."
"Public safety has been Mayor Adams' top priority since day one and that is why the NYPD is working diligently every day to reduce crime," Levy went on to say in his statement. "As the mayor said today, he wants results as quickly as possible, and while we have seen progress over the last few months — taking more than 3,000 guns off the streets and reducing shootings and homicides by double digits — there is no overnight fix. Today's incident only further highlights the urgency to get dangerous guns and dangerous people off our streets as quickly as possible. New York City employees are city residents, and we will do everything in our power to keep all New Yorkers safe."
Copyright NBC New York