Little steps were a big deal for 21-year-old Raquel White, who doctors said would likely never walk again after she was badly hurt in a violent crash on Long Island last fall.
But White says she believed she would recover.
"I knew I was going to get better," she said.
White was driving home last November when she hit a guardrail on Sunrise Highway in Suffolk County. When she got out of her car she was hit by a truck that dragged her down the road.
The bottom part of her body was torn apart, her pelvis crushed.
"She probably had one of the worst cases I've ever seen," Dr. David Forsh said.
Dr. Forsh is the chief of orthopedic trauma in the Mt. Sinai Health System. Like White, he didn't give up hope even though he knew there was a chance she would be paralyzed.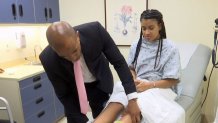 Using a 3-D X-ray image of her CAT scan, Dr. Forsh and his team at Mount Sinai St Luke's worked for six hours to put White back together.
"It was definitely a risky surgery, but certainly well worth the risk if you're trying to save someone's life," Dr. Forsh said.
He said even at a major hospital like Mount Sinai St Luke's this type of injury is rarely seen.
"I just tried to like work every day so I could go home," White said. "That's all I wanted was to go home and get better."
She got that wish last week — finally leaving the hospital and finally standing on her own two feet.
"It's just relieving," White said. "You spend so much time laying down and sitting and trying to get to that point where you can stand. And standing it was just — it was everything."
She said she couldn't have done it without the team at St. Luke's.
"It's just amazing that there's people like that," she said through tears.