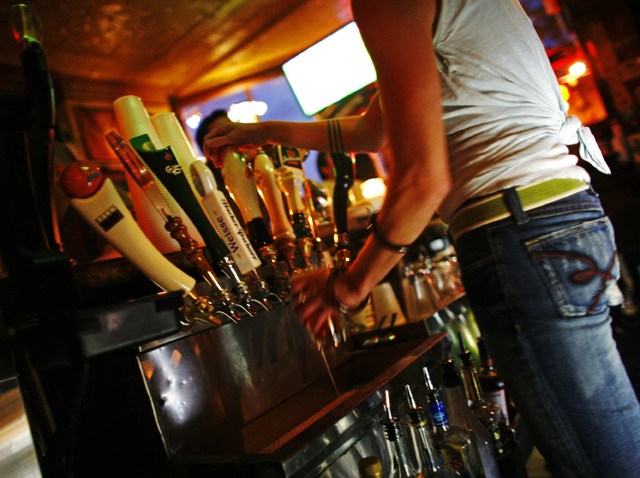 While New York football fans might still be bitter about their Jets, and Giants, there will be plenty of manic Super Bowl excitement all weekend. No plans for Sunday yet?
Here are just a few venues putting on Super Bowl parties:
Manhattan

Venue: Chelsea Brewing Company, Pier 59
Time: 6 p.m.
Description: Score your $25 game ticket for unlimited beer and wine, with free half-time buffet. Test your skills with the field goal contest, win some prizes, and enjoy $4 pints during the pregame show.

Venue: Bar None, 98 Third Avenue
Time: 3 p.m.
Description: New Orleans Saints fans can celebrate with a seafood jambalaya buffet until 6 p.m. and free shots throughout the night.
Venue: Keats Restaurant, 842 Second Avenue
Description: Indianapolis Colts fans will be packing into this restaurant and bar unofficially dubbed Colts headquarters. Enjoy Colts-themed drinks and the company of die-hard fans.
Venue: Ship of Fools, 1590 Second Avenue
Time: Noon
Description: Start the celebration early at the tailgate special where they are serving up $4 Saints hurricane drinks, $4 Colts blue Hawaiians, and $6 Colts blue martinis. Then watch the game on any one of the 48 big screen TVs.
Queens

Venue: Studio Square Beer Garden, 3533 36th Street, Astoria
Time: 6 p.m.
Description: For $25 per person, enjoy an open beer and wine bar until 11 p.m., along with the classic buffet.
Venue: Astoria Brewhouse, 2850 31st Street, Astoria
Description: Watch the big game with $13 domestic pitchers, 20-for-$10 wings, and a chance to win a 32" flat screen TV.
Brooklyn

Venue: The Bell House, 149 7th Street, Gowanus
Description: Sporting specialty drinks like the Peyton Manhattan and the Drew Sea Brees, the Bell House is throwing a Super Bowl party complete with it's own halftime performance. The best fan will win an MVP Prize at the end of the game, and many other prizes given throughout.
Venue: The Brazen Head, 228 Atlantic Avenue
Time: 6 p.m.
Description: Head over to The Brazen Head and get $1 off all Cask Festival beers and free chili, both tradition and vegetarian. There will be prizes and happy hour during the big game.
Staten Island

Venue: Mug Shots, 3785 Victory Boulevard
Time: 6:30 p.m.
Description: Watch the game on the 11 HD flat-screen TVs and 80-inch projection screen, with an open bar until the end of the game for $40. Price includes and a hot buffet at half time.
Venue: Dugout Pub & Grill, 1614 Forest Avenue
Description: From the open kick off to the end of the game, $20 for all the Coors Light and Coors you can drink, $25 for all you can drink of bottled beer, tap beer, and well drinks or $35 all you can drink unlimited open bar. Stay after the game for a gig by The Badmouth Betties, an all-female rock-soul-and-roots crew.
Bronx

Venue: Gleeson's Sports Bar & Grill, 6115 Broadway
Description: Gleeson's is offering Coors Light giveaways and sampling, a free buffet at halftime, and a XBOX 360 raffle.