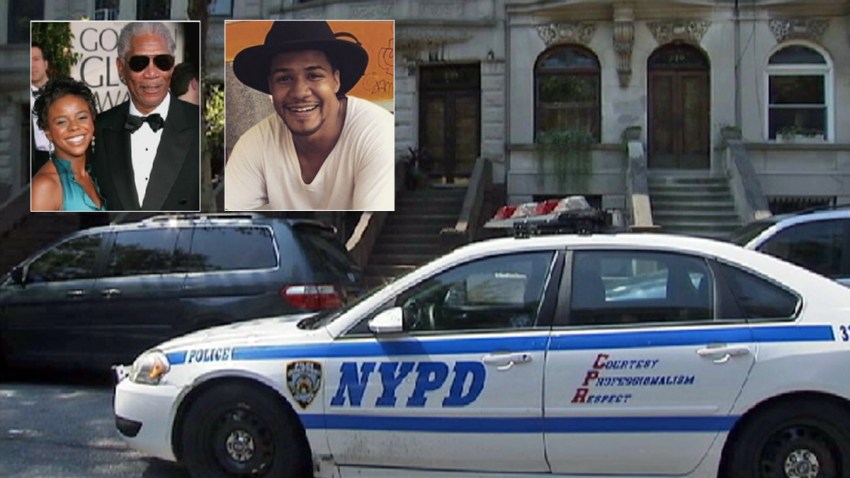 The boyfriend of Morgan Freeman's granddaughter was found standing over her lifeless body with a knife still sticking out of her chest when police officers arrested him on a Manhattan street, a prosecutor said at his arraignment Wednesday.
Lamar Davenport, 30, did not enter a plea as he appeared on a video monitor from a hospital to be arraigned in Edena Hines' death. The 33-year-old actress was found Sunday in front of her apartment building, stabbed 15 times in the heart, lungs and liver, Assistant District Attorney Nicholas Penfold said.
"This is a brutal murder with overwhelming evidence, where the defendant intentionally killed the victim," he said.
Davenport, who police have said was in a relationship with Hines, was arrested when officers responded to a 911 call reporting the stabbing.
"Police officers arrived on scene and found the defendant still on the scene, standing over the victim with a knife still protruding from the chest," Penfold told Judge Kevin McGrath. Penfold said there were multiple witnesses to the attack and that police have surveillance video that captured it unfolding.
Court papers say one of the witnesses told police they saw Davenport pull the woman into the street and then saw her on the ground with Davenport "repeatedly stabbing the woman in the back and torso."
Davenport was taken to Bellevue Hospital Center for a psychiatric evaluation after his arrest. His attorney, Annie Costanzo, said only that she would wait until the case is moved to state Supreme Court, which typically happens after an indictment is handed up, to ask a judge for bail.
Hines was actually Freeman's step-granddaughter, but Freeman's publicist said the Oscar-winning actor thought of her as his granddaughter. Hines was the granddaughter of Freeman's first wife.
Freeman's publicist did not immediately respond to a request for comment on Wednesday.
Hines, an up-and-coming actress, had briefly given up her career in frustration only to return to New York with renewed spirit and a starring part in an independent film.
"My dream has come true and it's just beginning. Life can make you want to give up or walk away; sometimes it gives you the strength to appreciate when you do get your happy ending," Hines wrote on her blog.
The actress, who sometimes went as E'dena, had just finished filming "Landing Up," a movie about a street-wise woman who falls for a man and must decide how to divulge her past.
"She really gave everything to the film. All of her soul. She was amazing in it. She's such a talented actress," said Stacey Maltin, who wrote, produced and stars in "Landing Up." Hines played Maltin's best friend in the film.
The cast and crew have been in a fog since the death, trying to edit images of a woman they miss. "We're totally devastated. At first, I had to keep checking to see if it was real, that it was actually true," said Maltin.
A graduate of New York University's graduate acting program, Hines confessed that she felt frustrated with the direction of her career, writing that she felt "unfulfilled."
"Try booking an ingenue role when you look like Juliet, but you read like Lady Macbeth," she wrote on her blog. "I wasn't sure where I fit in or what I wanted."
Many of her TV and film credits had some tie to her step-grandfather. She played a receptionist at a vet in "5 Flights Up," which starred Freeman and Diane Keaton. She played a maid in 1996's "Moll Flanders," with Freeman and Robin Wright. She also played a minor role on the comedic web series "A Minority Report."
Hines left for Memphis, Tennessee, for two years but this spring auditioned for "Landing Up" and got the part of Cece. "She had this energy that is so raw and magnetic," said Maltin. Hines never revealed who her famous relative was during her audition. "She really wanted to prove herself as an actress."
She returned to New York to start filming this spring. "Now there is an ease with which I approach my work, a sense of comfort instead of fear," she wrote.
Maltin said once when she was on set, the director, Daniel Tenenbaum, said he wanted to rehearse a scene but that the cast shouldn't go full-out. Maltin watched on a monitor as Hines acted up a storm. "I thought you were going to go half that?" Replied Hines: "That was my 50 percent."
Hines was the granddaughter of Freeman's first wife, Jeanette Adair Bradshaw. The two were married from 1967 to 1979.
Maltin said Hines had plans to start writing and developing some of her own work. She also planned to be in a play this fall. "She was really excited about a lot of things," said Maltin.
The film "Landing Up" is due out in 2016.

Copyright AP - Associated Press