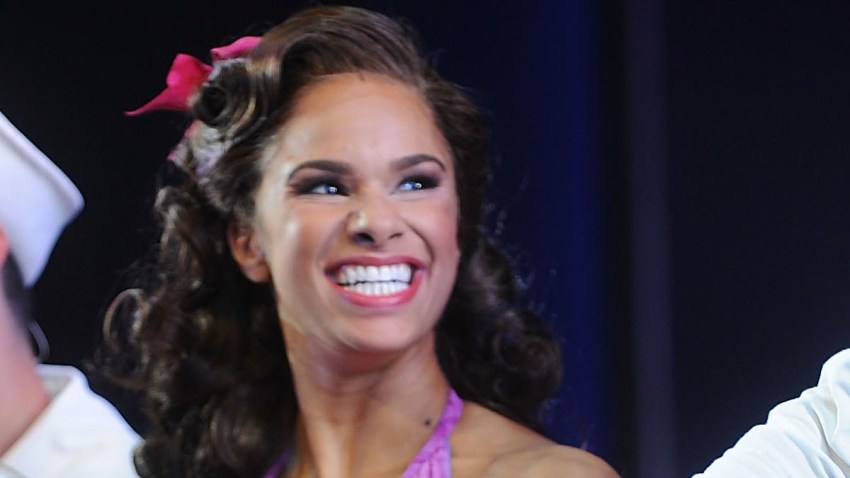 After making history as the first black woman to be named principal dancer at the American Ballet Theatre, Misty Copeland conquered the Great White Way on Tuesday night, making her Broadway debut in the acclaimed revival of "On the Town."
She'll be with the show for just 12 performances, through its closing at the Lyric Theatre on Sept. 6.
Copeland's performance was met with thunderous applause from the enthusiastic audience, which included celebrities like Grammy-winner Josh Groban, Tony-winner Phylicia Rashad, NBC's own Al Roker ("Today") and Tamara Tunie ("Law & Order: SVU").
Also in the audience? Ninety-year-old dancer Billie Allen, the first black woman to perform in "On the Town" back in the show's original 1944 production.
"As somebody with Broadway ambitions myself, to see Misty up there and making her Broadway debut was spectacular," Groban told NBC New York. "Her dancing is transcendent, and to see her technique within a musical was a wonderful experience for everybody involved."
Copeland plays Ivy Smith in the show, an inspiring performer and the current winner of the monthly "Miss Turnstile" competition. Smith becomes the object of affection for sailor Gabey (Tony nominee Tony Yazbeck), who, with the help of friends Chip (Jay Armstrong Johnson) and Ozzie (Clyde Alves), sets out to find her while on 24-hour shore leave in New York City.
The musical, which features music by Leonard Bernstein and book and lyrics by Betty Comden and Adolph Green, is based on Jerome Robbin's 1944 ballet "Fancy Free." Many of the show's biggest dance numbers — choreographed in this production by Emmy winner Joshua Bergasse — feature Copeland's character.
That includes the "Presentation of Miss Turnstiles," in which we first meet Ivy. The dance paints the picture of a day in the life of Miss Turnstiles, and has Copeland pirouetting from photo shoots to night clubs to taking care of her fictional husband in her home.
You can watch Copeland perform the number here. As you'll see, it's a much more lighthearted dance than Copeland typically performs at the American Ballet Theatre. And yet she feels completely at home in it, punching up the humor of the piece and moving comfortably through the numbers more complicated movements.
Copeland is equally at home during the show's book scenes. Her Ivy is more bubbly and bold than her predecessor Megan Fairchild's, creating a sweet dynamic between Ivy and Gabey that puts their enthusiasm, nervousness and affection for one another on equal playing ground.
We see a more traditional, romantic movement from Copeland during the show's stunning "The Real Coney Island" ballet. Copeland moves through the dance with poise and grace, leaving a trail of elegant lines and effortless flips behind her.
Her tenderness is perfectly matched with Yazbeck's rustic, masculine strength. The two are a dynamic pair, and when they hit that final pose at the piece's conclusion, you'll be left breathless.
"We really made that dance our own," Yazbeck explained to NBC New York. "She was so collaborative and professional. We only rehearsed for a half hour one day, and then did two run-throughs the next day. And that was it. She's the real deal."
"I'm pretty much jealous of any other man who gets to partner with her in the future," Yazbeck added. "Because she's pretty incredible."
Copeland's jeté into "On the Town" is the latest move in a history-making year for the 32-year-old. In addition to dancing leads in productions of "The Nutcracker," "Romeo and Juliet" and "Swan Lake," she's also been featured on TV's "60 Minutes" and on the cover of Time Magazine as one of their "100 Most Influential People in 2015."
In a lovely coincidence, her first performance also happened to land on the birthday of Leonard Bernstein, who composed "On the Town" when he was only 26. Act II opened with the cast and audience paying tribute to the late composer with a rendition of a song he didn't write: "Happy Birthday."
For tickets to "On the Town" more information, visit onthetownbroadway.com.