What to Know
Police are looking for a man who robbed two Manhattan businesses in less than two hours on Sunday, the NYPD says
The first robbery happened at 12:45 p.m. at Seward Park Liquors in Chinatown and the second occurred at Reno Fashion at 2 p.m., cops say
He threw bottles of booze at the worker in the first robbery and attacked two employees in the second, sending both the hospital, police say
Police say they've arrested the man suspected of robbing two Manhattan businesses within two hours, as he allegedly went on a liquor bottle-throwing tantrum and punched at least two different store clerks, sending one of them, an elderly woman, to the hospital.
After releasing surveillance video of the suspect early Monday, police arrested 61-year-old Rickey Hayes of Newark, New Jersey, on multiple counts of robbery, attempted robbery, assault and other charges. It wasn't immediately clear if he had an attorney.
Asked if he had comment as he was led from the police station after his arrest Monday, Hayes only said, "I didn't take my medication" and mumbled what sounded like "sorry" when asked if he wanted to say anything to the victims.
Cops say the suspect first targeted Seward Park Liquors on the Lower East Side on Sunday just before 1 p.m. The NYPD says he demanded the worker to give him the cash from the register, but when the employee declined, the suspect threatened him with a glass bottle of booze.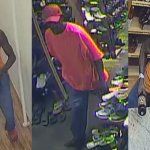 He continued his outburst by throwing more bottles from the shelf at the worker and chasing the worker out of the store. Authorities say he then took about $200 and ran away. The victim was not seriously injured.
About an hour later, he barged into Reno Fashion in Greenwich Village and attacked two employees, a 66-year-old man and an 88-year-old woman. Police say after the suspect punched, kicked and hit the workers on their heads with glass jars before trying to swipe cash from the register and running off.
The two workers were taken to an area hospital, where they are in stable condition, according to officials.
Top Tri-State News Photos