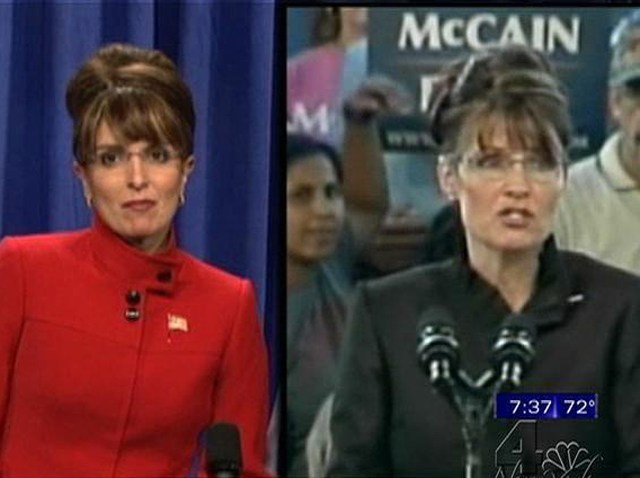 Many people slept on the sidewalk in hopes of getting tickets to tonight's "Saturday Night Live," featuring Republican vice presidential candidate Alaska Gov. Sarah Palin.
Republican presidential candidate Sen. John McCain has said that Palin's impending appearance on SNL is good for the campaign and good for NBC's rating.
Quite a few people – more than usual – lined up outside 30 Rock Saturday morning to get a ticket to Palin's performance.
SNL's Tina Fey has perfected her impression of Palin with the look, the Alaskan accent, and, of course, the hard-hitting jokes.
Slideshow: SNL's Season Premiere
Fey: How To Do Palin Impression
"I'm excited. It will be fun. American TV watchers will like it," Palin said in advance of her cameo. "I haven't seen a script. You have to have a sense of humor about these kind of things."
Tina Fey was on "The Late Show With David Letterman" Friday night talking about how she perfected the Palin accent.
The real Sarah Palin was in Pennsylvania Saturday morning. Sen. Joe Biden was in Las Vegas Friday night at a rally and is in Nevada this weekend. He is sticking to working class issues.
The pressure is on McCain this weekend as he tours traditionally red states – states that Republicans won during the last presidential election and which he's now neck and neck with Obama in vying for voters. First McCain stops in Miami, touting the message, "I'm not George Bush."
McCain also plans weekend stops in Ohio and Florida. The Republican senator was ahead in Florida polls until last month. Now he trails by six points. McCain questioned proposed tax cuts by Sen. Barack Obama, who's warning his supporters to not get too confident as the days whittle down to the election.
With a growing lead in the polls and just 17 days to go until the election, Obama is focusing his campaign on the close contests. He campaigns in Missouri on Saturday, North Carolina on Sunday and Florida on Monday. All states President George W. Bush won in 2004.
Fey's appearances as Palin have drawn huge audiences to the longtime skit show and sealed its reputation as TV's hottest vehicle for political satire. Obama has appeared briefly on the show since becoming a candidate, and McCain once hosted a show. One episode during the primaries suggested the media were favoring Obama over Sen. Hillary Rodham Clinton -- and a lot of people thought coverage for the next few weeks was affected.
As for the candidates, casual, funny settings help them appeal to with voters on a more personal level.
From daytime talk shows like ABC's "The View" to late-night entertainment programs like NBC's "The Tonight Show with Jay Leno," they get a chance to appear as self-effacing, regular people, not so deadly serious.
There are perils, however. Three weeks ago McCain abruptly canceled an appearance on Letterman's "Late Show," leading its star to target insults at the candidate for show after show. McCain had said he needed to return to Washington to deal with the financial crisis, but Letterman found him being interviewed by CBS News anchor Katie Couric.
"I screwed up," McCain said in an on-air mea culpa when he appeared on Letterman's show Thursday night.
Candidates with humor on their minds are finding other avenues to reach voters. Joke-filled speeches by McCain and Obama at the annual Alfred E. Smith Memorial Foundation Dinner, a charity event organized by the Catholic Archdiocese of New York for the benefit of needy children, were shown live on cable TV Thursday night and excerpted on news channels Friday.
Obama made fun of the backdrop he'd had for his stadium acceptance speech at the Democratic National Convention in Denver.
"Could somebody tell me what happened to the Greek columns that I requested?" he asked.
Copyright AP - Associated Press