What to Know
A Long Island Rail Road employee was injured after a train that wasn't in service derailed on Saturday
The train was traveling through the West Side Yard when two of the cars in the middle derailed
No customers were on board, but an employee who was on board was left with back pain
The LIRR president has responded to criticism that he waited too long to tell the public a train had derailed over the weekend.
After two LIRR train cars derailed in West Side Yard, a train yard on the west side of Manhattan, Saturday evening, Phil Eng waited until 1 p.m. Sunday to notify the board, he said at a MTA Committee meeting Monday.
Eng said he was prioritizing reporting to the scene and assessing how best to address the derailment. "At that point I had enough information about the situation," he said.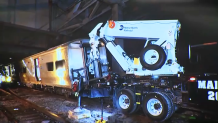 Earlier in the meeting, John Micho, a commuter, said the derailment represented the "old way of thinking" at the LIRR.
"We have to talk about the failure to immediately inform the public of this derailment at Penn," he said. "I was hoping the new LIRR president was going to fix things, and I've been encouraged greatly by him, but the problem is he is surrounded by people who worked under the previous administration."
Eng said as soon as he got the call he established no customers were hurt or schedules affected. He then went to the scene of the derailment and organized how to remedy the situation and get the cars back on the tracks. "When I returned to scene on Sunday morning, after that was all in place, that's when i notified the board," he said. He said he waited to message customers because he wanted to be able to give specific information about any changes to schedules.
The Long Island Rail Road canceled or partially canceled eight Monday morning rush-hour trains following the weekend derailment. Another seven rush-hour trains were canceled for the evening commute. See the impacts below.
LIRR says a normal rush is expected for Tuesday morning.
LIRR is currently working to repair track damage caused by the derailment, the spokesperson said. No customers were on board during the derailment, but an employee on board was left with back pain, LIRR's spokesperson said.
The derailment is under investigation.
[NATL] Top News Photos: Pope Visits Japan, and More