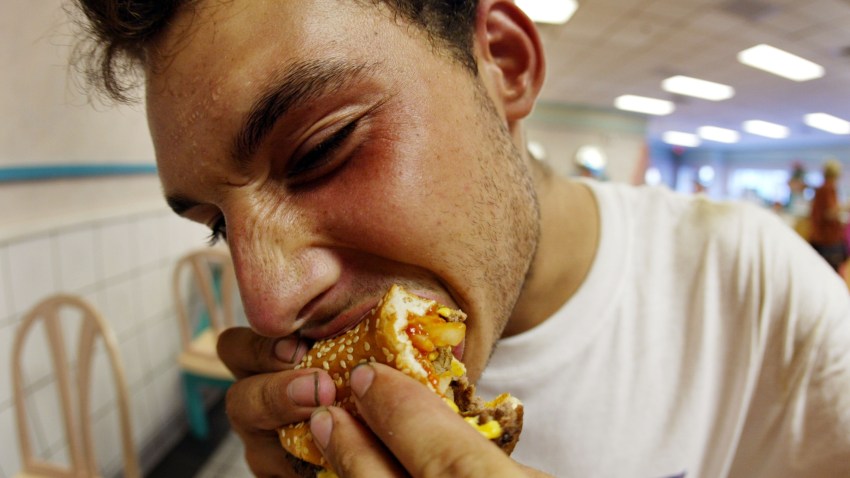 This is Why You're Fat's Jessica Amason has brought together six of the city's twittering food trucks to go head to head next Thursday for the Eat n' Tweet Challenge. The city-wide Twitter scavenger hunt will send hoards of foodies scouring the city to find them and help celebrate the blog's new book release that originally brought gross food to the forefront of American foodie thought.
Starting at 11am, This is Why You're Fat's Twitter account (@tiwyf) will begin twittering the locations of The Treats Truck, Cupcake Shop, The Bistro Truck, Waffles & Dinges, Cravings Truck, and Van Leeuwen Artisan Ice Cream Truck, and fans in turn will hunt them down to capture a photo of themselves eating a special item at each location.
The first fan to do so for all six trucks will win a private food cart party of their choice for 25 friends and get a free copy of the book. They should then consider going for a brief jog. Meanwhile, the food truck with the most popular new gross item will have it featured on the This is Why You're Fat blog and make it a keeper on their menu for generations of gross food-loving fans to come.

For those unfamiliar with the fat-ness, This is Why You're Fat started earlier this year as a popular Tumblr blog that showcased photos of fantastically gross food submitted by readers all across the globe. Next week, This is Why You're Fat the book hits streets, bookstores, and internet retailers worldwide. And sometime in the next few months, you'll find yourself at a classy rooftop party indulging on deep-friend bananas smushed between jelly donuts, trying to pinpoint the moment it was when your caloric count took your dreams and turned them into heart attacks.