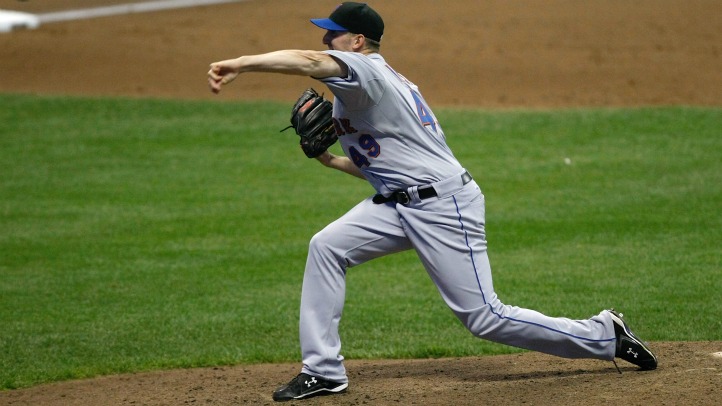 There were two things for Mets fans to savor on Thursday night.
The first was Jonathon Niese. The left-hander has been an erratic mix of great talent and maddening failures throughout his brief career, but he was all the former against the Brewers.
Niese struck out eight, allowed four hits and gave a scary bullpen most of the night off during a 4-1 win that gave the Mets the edge in their series with Milwaukee. When Terry Collins was forced to go to the bullpen with two on and two out in the eighth inning, he didn't mess around and went straight to Frankie Rodriguez for the save.
That was a nice change from the giveaway Collins presided over on Wednesday, but not nearly as nice a change as the one we've seen in Niese in recent starts. When Niese first joined the Mets, his biggest weapon was a classic curveball that baffled hitters but he all but abandoned it during a rough patch two seasons ago.
It's back with a vengeance. Niese threw 36 of them in his last start, tossed 39 more of them on Thursday night and the Brewers hitters seemed about as happy to see them coming as Anthony Weiner must be to wake up and see another one of his Twitter paramours talking to the press.
All year we've been told that Mike Pelfrey is the guy who is going to anchor the rotation until Johan Santana returns, a claim that's been hard to swallow for various reasons. With his curveball back in the arsenal, Niese has better stuff than Pelfrey and almost anyone has better makeup so perhaps it still will be a southpaw to lead the Mets.
The other nice devolpment of the evening was the long overdue benching of Jason Bay. Jason Pridie started in left, scored a run and drove in a run to give the Mets the kind of performance they rarely get from that position.
Bay won't be in the lineup on Friday either as Terry Collins finally threw up his hands and admitted that Bay has no place on a big league diamond. It's not a permanent solution because the Mets have to do something to salvage their investment in Bay, but he's increasingly feeling like the position player equivalent to Oliver Perez.
Continually running him out there to fail is counterproductive for both team and player while sending him to the minors or disabling him isn't likely to result in any kind of change to a veteran player who seems to have had the ability to play the game sucked out of him the way Superman lost his powers to romance Lois Lane in "Superman II."
For now, though, it is nice to see a Mets lineup that doesn't have Bay in it. If only there were a way to have Niese in it a little more often.
Josh Alper is a writer living in New York City. You can follow him on Twitter and he is also a contributor to Pro Football Talk.
Copyright FREEL - NBC Local Media