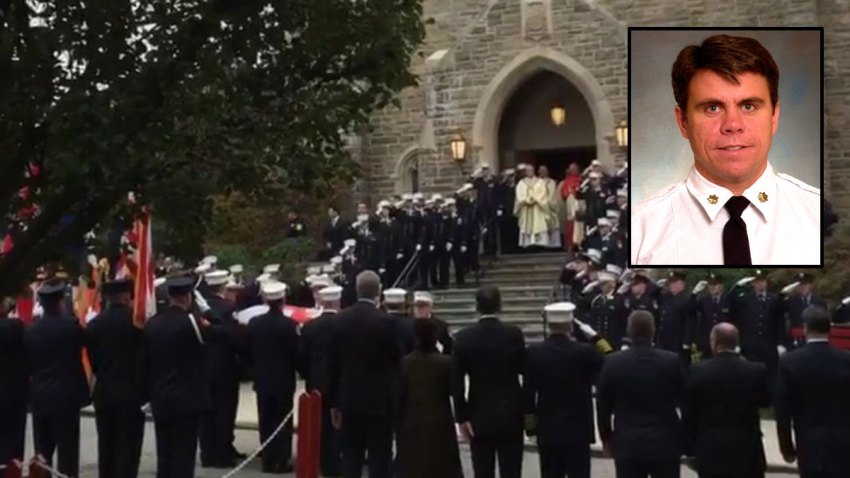 Thousands gathered in Yonkers Saturday to memorialize FDNY Battalion Chief Michael Fahy, the father of three and longtime firefighter who was killed when a suspected drug lab exploded in the Bronx earlier this week.
Among the throngs of people who convened at Annunciation Church to pay their respects were Mayor Bill de Blasio and FDNY commissioner Daniel A. Nigro.
"[Mike's] life work was to protect others," said Mayor de Blasio. "He expressed that profoundly. He was something we could look up to every day."
FDNY officials marched through the streets dressed in crisp, double-breasted navy blue jackets. Overcasted skies mirrored the funeral's somber mood. As the crowd silently filed into the church, the honks of passing FDNY trucks and the rumbling of FDNY Emerald Society Pipes' snare drums were the only audible sounds.
Fahy was remembered by colleagues and friends as a "do-er", someone who was able to overcome obstacles. His family remembered him as a dedicated father who never passed up an opportunity to watch a soccer practice or cook his signature meatballs.
Fahy was killed by falling debris when a house fronting a suspected marijuana operation exploded at West 234th Street near Tibbett Avenue in Kingsbridge Tuesday. An hour prior to the explosion, firefighters responded to a report of a gas smell at the location and found the house, police say. Firefighters found the alleged lab and notified police, but before they could investigate, the home blew up. Fahy was the only fatality; several other people were injured.
Two days after his death, Fahy was posthumously promoted to deputy chief, the highest civil service promotional achievement in the FDNY, by Mayor de Blasio and Commissioner Nigro.
A devoted husband and father of three young children, ages 6, 8 and 11, Fahy became a firefighter in 1999 after practicing as a lawyer for nine months and served through 9/11. He ascended through the ranks to become battalion chief in 2012 after 13 years of service, making him the second fastest to ever do so in FDNY history.
His desire to do good was instilled before he became a civil servant: He helped to establish a fellowship that provides legal service for those in need at New York Law School, where he also obtained a law degree with honors.
"He could have been anything he wanted to be, but what he wanted more than anything was to be a New York City firefighter," said Commissioner Nigro. "The fact that he chose this career shows a lot about his commitment to serving others."
He received his undergraduate degree from Binghamton University in 1994 and his master's degree at the Center for Homeland Defense and Security's Naval Postgraduate School, according to education records.
Fahy is the 1,145th firefighter to die in the line of duty since the FDNY's inception in 1865. He is the first member of the department to die since 2014.
Draped in a bright red FDNY flag, his coffin was loaded onto the back of a fire engine. Onlookers watched as the truck slowly drove away, followed by a cavalcade of FDNY vehicles.
Fiona Fahy noted the irony in the street closures and traffic congestion created by her husband's funeral: Mike hated traffic because it kept him from being where he was needed.
"Mike climbed 100 mountains to be with his children and protect them," she said as her voice trembled. "I have to believe that my husband has it all figured out, and he will always be with us."
Authorities have two people in custody in connection with Tuesday's blast, which officials said was sparked by an illegal gas line. One of the men is awaiting extradition to New York after being arrested on a fugitive warrant in New Jersey; the other faces marijuana possession charges.