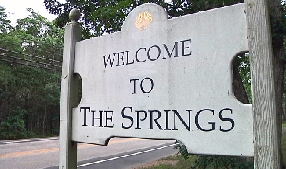 With beautiful homes and breathtaking landscapes, the real estate in East Hampton sells itself. But pop into a town hall meeting and you'll find residents saying it's turning into a place they don't want to live.

"Children from four different families are registered to the same address," said Carol Buda during a town hall meeting on January 5th.

Year-round residents like Buda say several people are illegally living in the town by overcrowding single-family homes. Most of the complaints are about the hamlet of Springs where Buda lives. She has photos of the homes she says are proof of the problem. Snapshots she brings to the town hall meetings. The images show modest homes with so many cars they don't fit in the driveway.

"Parking on the grass, the front yard, the backyard the side yard," said Buda. "And it affects property values."

Some of the complaints during the town hall meetings are not only about the overcrowded homes but the people living in them as well.

"We do not know the people, if we try to make contact with those people they avoid us. They don't communicate with us. They always try to avoid contacting us and they are like shadowy persons," said Irena Grant during a meeting on March 1.

When Deputy Town Supervisor Theresa Quigley heard that she hit a boiling point at the meeting. During a break at the meeting a microphone picked up a softly spoken comment: "This is Nazis," she said. "I'm telling you, this is disgusting. I don't want to be in this town,"

Quigley said she regrets speaking loosely but didn't take the comment back.

"I don't regret my own personal sentiment that you can't take a group of people and judge them by their skin color, " Quigley told NBC 4 New York.

She admits overcrowding is a problem but thinks concerns over changing demographics is also at play. When asked who was being targeted, Quigley said "The Latinos."

Quigley says many of the complaints involve Latino families that work in a variety of trades throughout the Hamptons. Spring residents like Fred Weinberg say Quigley is using race as a smokescreen.

"I am not a Nazi. No one on the Springs Concerned Citizens Committee is a Nazi," said Fred Weinberg during a town hall in mid-March.

Weinberg says whoever is breaking the law, regardless of race, is hurting the whole town.

"In the homes where there are mult-ifamily people and many kids in a home, they are attending the school," says Weinberg. "There are so many students, our taxes in Springs have gone up significantly every year. In the last few years, while our taxes have gone up significantly, the home values are going down."

Town officials say in Springs school enrollment is up more than 20 percent in the last 10 years while the Springs school facility has not expanded in that time.

The town of East Hampton provided records that code enforcement is up since 2010. But Quigley says part of the problem is state law which can protect people who are not married or related but live together as a family.

Complicating the debate is that it is nearly impossible to prove there is overcrowding without actually entering and searching the homes with a search warrant.

Get the latest from NBC 4 New York anytime, anywhere. Follow us on Twitter, Facebook and Google+. Sign up for email newsletters here. Get breaking news delivered right to your phone -- just text NYBREAKING to 639710. For more info, text HELP. To end, text STOP. Message and data rates may apply.