A car crashed into a fire hydrant in Queens early Sunday and split in two, killing two passengers, police said.
Police are looking for the driver, who fled on foot.
The 1994 Toyota Corolla was traveling east on 100th Avenue in a residential area of the Hollis neighborhood shortly after midnight, police said.
The driver was going at a high rate of speed when the driver hit a fire hydrant, then crashed through a fence, police said. The impact broke the car in half, police said.
"I heard the squeal of tires and then I just heard a loud boom," witness Titus Francis said.

James Montague, 21, was riding in the back seat and was pronounced dead at the scene, police said. He lived in Queens, about 10 blocks from the crash site.
Blake Gary, 22, was in the front passenger seat, police said. He was taken to Queens General Hospital where he also died, police said. He also lived in Queens.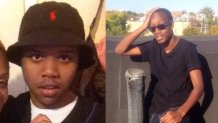 No details on the driver were immediately released.
Top Tri-State News Photos