What to Know
A Honda Civic blew past a red light, sparking a chain-reaction crash Wednesday morning in Murray Hill, police say
The driver, Antonios Sikolas, 25, of Yonkers, is facing charges in connection with the crash, according to authorities
Miraculously, everybody survived the twisted crash, officials say, and witnesses rushed in to help the victims
The driver of the Honda Civic who blew past a red light in Kips Bay Wednesday morning, sparking a chain-reaction crash involving a DOT truck and a taxi, is facing charges in the collision, police say.
Antonios Sikolas, 25, of Yonkers is charged with felony vehicle assault and DUI, police said.

Exclusive surveillance video obtained by NBC 4 New York captured the moment of impact and the mangled wreck at 3rd Avenue and East 34th Street around 2:30 a.m.
Miraculously, everybody survived the twisted crash, all while bar manager and witness Ali Ercan and others pleaded with them to stay alive.
"We started calling them wake up, wake up, wake up," Ercan said. "Suddenly one of them moved."

Ercan doesn't know if his words had a helping hand in saving the lives of the two men, but he is seen in the video running to the Honda that police said ran a red light and then was t-boned by the truck.
The tangled vehicles were pushed the length of a football and stopped only after they slammed into a parked taxi.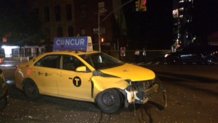 In what Ercan said was a natural reflex, he initially pulled out his cellphone and hit record, but he said he thought of their families.
"I told myself 'what are you doing,'" he said. "Go help the people."
Ercan helped until FDNY paramedics and police arrived quickly after, sawing open the doors to pull the men out.
Police said speed and alcohol may have been a factor in the wreck.
The passenger of the Honda remains at an area hospital in critical but stable condition.

"I was hoping," Ercan said. "I was praying."
Top Tri-State News Photos
The driver of the truck and the taxi are expected to be OK after suffering non-life threatening injuries.