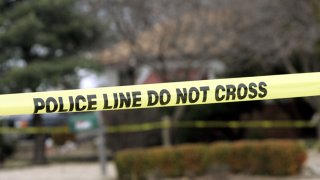 A 53-year-old Jersey City woman has been charged with concealing human remains after the body of a 78-year-old woman was found in her apartment Saturday night following a three-hour standoff, prosecutors said Monday.
Cheryl Gatling also is accused of possessing a knife for unlawful purposes and making terroristic threats in the case. Attorney information for her wasn't known.
According to prosecutors, Jersey City police responding to a call for a welfare check at a fourth-floor apartment on Arlington Avenue found Gatling had barricaded herself inside and would not allow officers to enter.
Hours later, just before 11:30 p.m., Gatling opened the door and allowed Jersey City police inside. There they found the lifeless 78-year-old woman. She has been identified as Dorothy Gatling and was presumed to be the defendant's mother.
She was believed to have been dead for an extended period of time.
The circumstances of the woman's death are under investigation, and the cause and manner of death will be determined by the regional medical examiner. Additional charges could be filed pending those findings, prosecutors said.
Copyright NBC New York