A kitten is getting a new leash on life after being saved from the subway tracks during rush hour in Manhattan on Thursday.
George, a Washington Heights cat, was being held by his owner at the Canal Street E station when he got scared by the noise of the train and broke free, a New York Police Department representative said.
Riders flagged down the uptown E train's operator as it was pulling into the station and the train stopped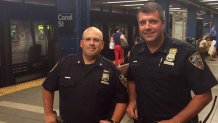 Officers Brian Kenny and Gus Vargas climbed onto the front of the train and went down onto the tracks to rescue the cat, which was inches from the third rail. Kenny was able to pick up the cat and return him to his owner on the platform.
"I gave him a little scratch on the head," Police Officer Kenny said on the department's Facebook page. "He looked at us. I picked him up, he reached for both of my shoulders like a baby. He almost hugged me."
Copyright AP - Associated Press