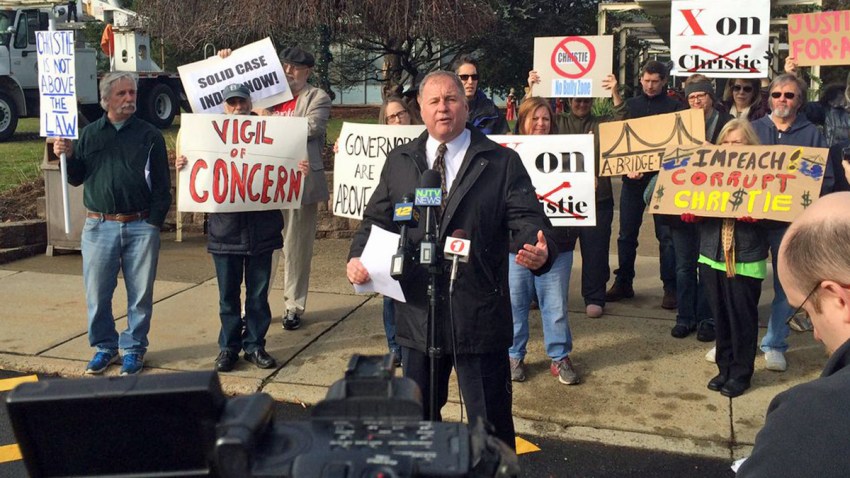 What to Know
Last week, a judge denied Bill Brennan's request to appoint a special prosecutor in the official misconduct case
Brennan filed a motion to appeal, saying a special prosecutor is needed to avoid the appearance of a conflict of interest
Christie's attorneys and the judge have said Brennan lacks the legal standing to make such a request
The activist and former firefighter who filed a citizen's official misconduct complaint against Chris Christie in the George Washington Bridge lane-closing scandal has announced his intention to run for New Jersey governor in 2017.
Bill Brennan made the announcement at a news briefing Monday, pitting himself against John Wisniewski, the longtime state assemblyman who co-chaired the legislative inquiry into the bridge scandal, ex-Goldman Sachs executive Phil Murphy and former U.S. Under Secretary of the Treasury for Enforcement Jim Johnson in the Democratic primary.
Brennan, a former Teaneck firefighter, also said he would appeal a judge's decision last week not to appoint a special prosecutor in the official misconduct case against Christie. Brennan filed the complaint earlier this year alleging that Christie failed to order subordinates to reopen the bridge access lanes from Fort Lee after it became clear that the September 2013 lane closures were adversely affecting the flow of traffic. A different judge ruled that there was probable cause to let the complaint go forward in October.
On Friday, Superior Court Judge Bonnie Mizdol dismissed Brennan's request to appoint a special prosecutor, saying that the Wayne resident lacked the standing to make such a request.
In his appeal, Brennan said a citizen complainant is barred from pursuing two courses of legal action that a special appointed prosecutor would be allowed to follow. He also said the current prosecutors are beholden to Christie, which he
alleged would compromise their ability to ensure justice would be served.
"The world is watching as a defendant controls his prosecutors, this is an astonishingly embarrassing spectacle that must be curtailed," he writes in the motion to appeal. "As an issue of first impression your decision constitutes the foundation for all of the law to be decided on these facts. Thus far, Your Honor avoids the issue entirely via the resolution of unasked questions rather than addressing salient issues of Constitutional impact."
Brennan, representing himself, argued before Mizdol last week that a special prosecutor was needed to remove the appearance of a conflict of interest. Attorney General Chris Porrino and Bergen County Prosecutor Gurbir Grewal, both appointed by Christie, have recused themselves from the case, but Brennan argued that their subordinates also should be recused. Grewal's subordinates are not appointees.
"The conflict is real and it's palpable. They're all on the same side, figuratively, literally and visually," he said as he pointed to lawyers representing the prosecutor's office, attorney general's office and Christie.
One of Christie's attorneys said it was an "insult to the process" to say that assistant county prosecutors couldn't be fair, and accused Brennan of grandstanding.
Christie has repeatedly denied any wrongdoing and was never charged in the scheme to create traffic jams on the country's busiest bridge as political payback to a mayor who didn't endorse the governor's re-election. Two former Christie allies were recently convicted in the case, and a third earlier pleaded guilty and testified against them.
Copyright AP - Associated Press