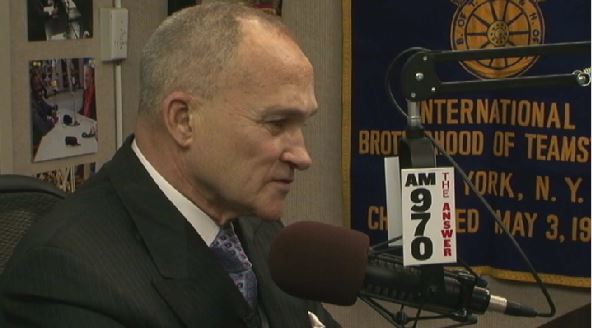 The city's top cop is fighting back against claims by former NYPD commissioner Ray Kelly that police brass are cooking the books to make it appear that there were fewer shootings in the New York City this year.
NYPD Commissioner Bill Bratton took umbrage with Kelly's claims during an interview on MSNBC's "Morning Joe" Wednesday morning. The defense comes a week after Kelly first suggested that the NYPD had changed the definition of a shooting to make New York City appear to be safer than it actually is.
"He is engaging in politics," Bratton said. "The first casualty in politics is the truth. He's selling a book. The New York Post reports he is thinking of running for mayor. I stand by my crime statistics because they are factual."
Kelly first called into question crime statistics last week during a radio interview with "Reaching Out With Greg Floyd" on AM-970. In a statement Tuesday, Kelly alleged that NYPD cops told him that Bratton's administration had changed the way it classifies shootings to show a decrease in that type of crime.
"I am troubled by the eroding qualify of the life in the city that is obvious to anyone who lives here. Most disturbing is a 20 percent increase in homicides by gun, accompanied by claims that overall shootings are down," Kelly said in the statement.
On Wednesday, the NYPD released a fact sheet saying that 15 more people had been killed in homicides in 2015 than in 2014, with a 22 percent increase in gunfire homicides. But it notes that there was a drop in stabbing homicides, which marked "normal ebbs and flows of crime trends."
The NYPD also said in the sheet that it hasn't changed the way it has classified shootings since Bratton took over. For instance, Kelly alleged that the administration didn't classify people grazed by bullets as shooting victims; the NYPD says that it has always counted graze wounds that draw blood as shootings.
"Everything he said in his statement yesterday we have refuted," Bratton told interviewers on "Morning Joe."
Bratton's interview comes a day after he lambasted the former commissioner during a news conference discussing security for the upcoming New Year's Eve festivities in Times Square.
"My cops work very hard to reduce gun violence in the city," Bratton said Tuesday. "To claim in some fashion that we're playing with the numbers? Shame on him."
Mayor de Blasio rebuked the claims last week, saying that the NYPD is using "the exact same standard to track crime that Ray Kelly used."
Accusing the NYPD of manipulating statistics is not new. When Kelly was commissioner, former NYPD officer Adrian Schoolcraft alleged that bosses at the 81st Precinct fudged the numbers. He filed a lawsuit and settled for $600,000 -- but the NYPD did not admit wrongdoing.
So what does constitute a shooting? Year-end crime reports certified by both commissioners Kelly and Bratton define shootings identically, saying "classification as a shooting incident is based upon a bullet striking the victim."