What to Know
A woman died in an out-of-control fire at the corner of 36th Street and Broadway in Bayonne, New Jersey, firefighters say
At least four buildings and homes were engulfed by the inferno that broke out around 1:30 Wednesday morning
The cause of the fire is under investigation
An out-of-control fire ripped through four businesses and homes early Wednesday in New Jersey, killing one person and igniting a fire truck in the process.
A woman on the second floor of one of the engulfed homes at the corner of 36th Street and Broadway in Bayonne died after firefighters found her unconscious, a fire chief told News 4.
The inferno, which broke out around 1:30 Wednesday morning and raged uncontrollably for hours, also hurt three firefighters. Their injuries are considered to be minor.
The flames were leaping from house to house and left at least 16 people homeless, some of whom were sent scrambling to get to safety.
"I could hardly see," Nancy Heymer, who escaped the fire, said. "I don't know how I made it downstairs. I just had to do it. I've lost everything."
Video from the scene right as firefighters arrived show the flames jumping out of the roof of a building and smoke billowing into the sky furiously.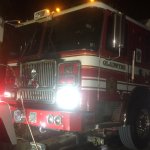 A fire truck also went up in flames and is now out of service. It wasn't clear whether anybody was on board at the time.
Officials said the fire fight was slowed because the old structure of the buildings made it easy for fire to get trapped inside.

The cause of the blaze is under investigation. The identity of the woman who died has not been released.
[NY ONLY CANVA] These Are the Top 10 Day Trips From New York City, According to New Report