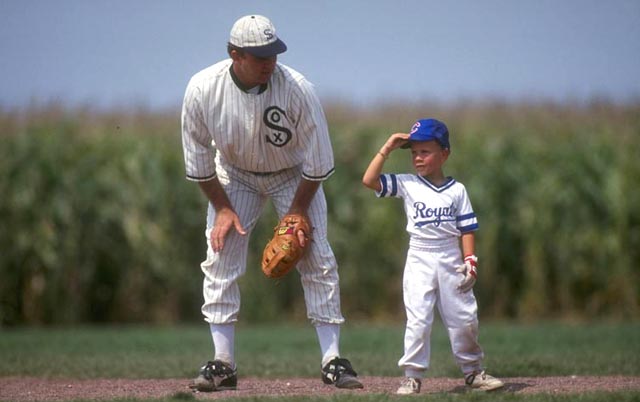 These are sorry times for the National Pastime.
Alex "A-Roid" Rodriguez is an admitted juicer. Miguel Tejada is charged with lying about steroids, joining Barry Bonds in a Hall of Shame that's likely to see more inductees.
But baseball just suffered another blow – more of a foul tip off the hand, really – that won't get nearly as much press. But it stings, nonetheless.
The Iowa cornfield that played the title role in "Field of Dreams" won't be hosting a 20th anniversary celebration of the film, as originally planned. The owners of the diamond, which has become a free-admission Mecca for fans of the movie and the game, say it just wouldn't be right to spend money on a big party when so many people are out of work.
Instead, they're donating $5,000 to a local food bank, calling it a much better use of the funds, according to The Associated Press.
That same sum – $5,000 – plays a key role in the tale of Shoeless Joe Jackson, who was transformed into the almost-mythic centerpiece of Kevin Costner's finest flick. Jackson was drummed out of baseball with seven other members of the 1919 Chicago "Black Sox" for an even bigger sin than juicing: throwing the World Series.
Jackson, though, batted .375 in the 1919 Fall Classic, without making an error. The illiterate boyhood mill-hand admitted taking $5,000 from gamblers, but said he tried to give the money back. He was banned from baseball, despite being acquitted of any legal wrongdoing – not even a .356 lifetime batting average will get him into the Hall of Fame.
Meanwhile, Rodriguez is set to keep collecting baseball's biggest salary – about $28 million a year – barring bold action by George Steinbrenner and Sons, or Major League Baseball. If allowed to keep playing, Rodriguez is a good bet to become baseball's all-time homerun king, though it's far from clear now whether he'll ever make it to Cooperstown.
"Field of Dreams" remains the best baseball movie that's not about baseball – it's about fathers and sons and redemption. It's also about a simpler time that wasn't so simple, even if the pleasures were, as the Iowa diamond reminds us.
The latest resurgence of baseball's biggest scandal since 1919, coupled with news of a celebration denied sends a cruel message to the fans who keeping throwing their hearts and money into the game amid constant disappointments: If you build it up, they will keep tearing it down.

Hester is founding director of the award-winning, multi-media NYCity News Service at the City University of New York Graduate School of Journalism. He is the former City Editor of the New York Daily News, where he started as a reporter in 1992.
Copyright FREEL - NBC Local Media