As the September gets rolling and the carefree days of summer come to a close, the most popular question among students is, "What are you wearing?"
Back-to-school shopping spending is second only to the winter holiday shopping season, according the National Federation of Retailers.
In its latest Back-to-School Spending Survey, the NFR found the average family with children in grades K-12 plan to spend an average of $335.38 in 2015.
If you're like most parents, you've waited till the dog days of summer to take advantage of last minute deals, and with so many options, how do you know if you're shopping the right trends?
Don't fret. Here are some of the latest fashions that will be sure to score an A+ in style.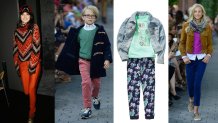 Jeans are a staple to any wardrobe. This season, bright and bold colors give the old classic a new life. And speaking of revamping, "jeggings" have morphed into a new portmanteau, the "tregging." These trouser-leggings are made out of thicker, opaque fabrics to resemble wool, corduroy or leather. The perfect pants to carry-over from fall to the colder winter months.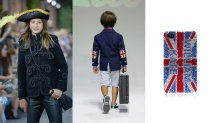 One trend that has been going strong for a few years now is British Rock. This fashion nod to London seems to be hitting its peak this season, with references to the red, white and blue of the Union Jack on shirts, plaid color patterns and accessories.
For that Gwen Stefani-like mom or Mick Jagger-esque dad, bold black and white prints on rock and roll motifs for girls and button-down shirts with ties for boys create a rocker-cool style. Throw on a vest over a graphic t-shirt or accessorize their favorite skinny jeans with a studded belt, and they'll look ready to take the stage.
Another trend that is taking fashion to new heights pays homage to all things outer space. Colorways of metallic silver, grey, blue, and white, and spacey graphics featuring rockets, aliens, and the Milky Way Galaxy are sure to fullfill your space-camp enthusiast's next out of this world adventure.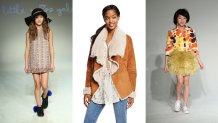 Taking cues from the runway trends of adult contemporary fashion, the fall/winter 2015 hippie-chic trend has crossed over to children's apparel. From courrèges dresses in burgundy and mustard yellow to oversized button detailing on paisley prints and tunics, the 60s and 70s are enjoying a pint-sized comeback.
Trendy bright colors are also meeting classic style's, like orange and blue rugby tee's, fuchsia peacoats and yellow ribbed sweaters.